I am in no particularly profound state and not prepared to share any beautiful musings on music or stellar thoughts about popular culture. So I will do neither. I am giving you two really beautiful, albeit odd, photographs for you to focus on. These picture comes with a wonderful assignment. (Psstt - it involves high quality independent rock music!)

Listen to these four songs while checking out the two photos below. Tell me what the results are... Send me an email if you have time. You don't have to post if you don't want to. I just did this exercise by accident while listening to the songs and looking at some photographs. Don't bother if you don't like art or music. Otherwise, enjoy.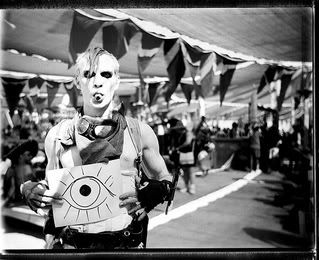 "
The Eye
"
by anon
the 2006 Burning Man festival.
The man has nothing to do with the stand, it's an art station.
He was just walking by and they asked him to draw a picture.
Completely spontaneous. Sweet haphazard creation.
The Songs:
Hipmatize Me - The Snowleopards (Boston!)
How It Ends - DevotchKa
The Picture: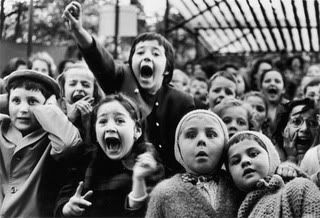 Children at a Puppet Theatre.
Paris, 1963 appearing in Time Magazine.
Photo by Alfred Eisenstaedt

The Songs:


THIS IS THE SONG OF THE DAY

Click here to subscribe to the RSL weblog.
You'll be notified when there is new content or free downloads!
Like this blog post? Please recommend it to others.
See more pages