Peggy Sue in Boston (photos!)
Photographic Evidence

by

5342 Studios
The Paradise
Boston, MA - 6/11/10

Appearing on a Boston stage for the first time, it was the moment for England indie power-folk hot shots
Peggy Sue
to shine at the Paradise. They couldn't have asked for a better bill - appearing with heated-up Boston legends
Buffalo Tom
. The audiences for Tom Janovitz's band paid close attention to the UK trio on stage - offering up early smatterings of applause.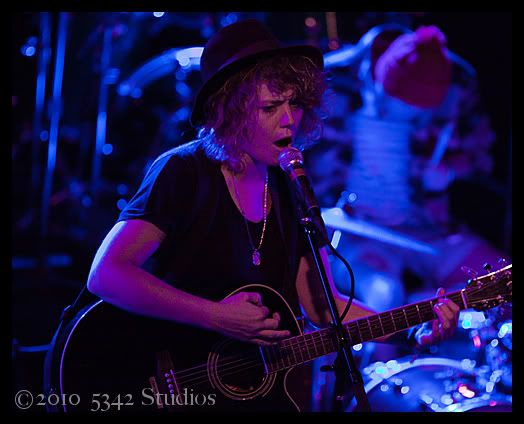 Rosa Slade and Olly Joyce (background) at the Paradise
5342 Studios photos
By the time the three finished up, Peggy Sue had earned a rousing standing ovation from the packed crowd. That's what they mean when they say
winning over an audience
! The band are touring the states these days behind the release of their June 2010 new release: "Fossils and Other Phantoms" (Yep Roc) - it's a staggeringly good listen for such a young act. We recommend you listen (
full album stream + music video
.)
RSL Streaming Photo Album
Peggy Sue at the Paradise in Boston 6/11/10
BONUS VIDEO:
Peggy Sue played a sold-out Paradise Rock Club in June. Before the show, we asked them to busk a couple of acoustic numbers for us on Commonwealth Avenue. Before they even got warmed up, we were
Shut Down by the Boston Cops
... WATCH UNTIL THE END - Funny!