THE NEW TOUR
photos from SxSW

The Mohawk in Austin
- 3/20/10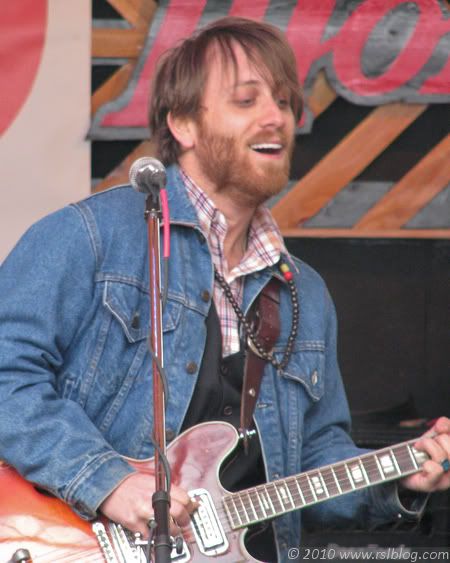 DAN AUERBACH of THE BLACK KEYS at The MOG Party
all photos by Ryan Spaulding
UNSTOPPABLE -
Long ago I had plotted out how good this set was going to sound. A pair of missed prior
Black Keys
shows and a pair of incredible
Dan Auerbach
band sets had fueled my passion. The music lineup and the SxSW promotion machine had long since ironed out any doubt about our attendance. We could not have expected what unfolded just prior to the band's set however... In eight hours, the Texas Spring would turn from a gorgeous 73 degrees to barely freezing! The 40 degree temperature may have dampened spirits elsewhere but nothing could diminish from the insane set by Auerbach and Black Keys drummer
Patrick Carney
. The scene of this awesome, albeit cold outdoor exhibition? The MOG SxSW Party at the Mohawk on Red River in Austin.
RSL Streaming Photo Album
The Black Keys at SxSW 3-20-10
THE NEW ALBUM
- On
May 18th
,
Brothers
, the new album from The Black Keys will hit stores. For a limited time you can get a free copy of the record when you buy tour tickets through the band's website. Methinks this whip smart blues rock band are going to be around for a very, very long time. The band is on the road now. Summer dates begin on June 2nd in Salt Lake City. The tour will include a newly added second show at Central Park's SummerStage on July 28 that follows the band's July 27 performance, which quickly sold out. Presale tickets for the tour dates are on sale now through the band's website.
The new album includes the Danger Mouse-produced song "
Tighten Up
" and a cover of the Jerry Butler classic "
Never Gonna Give You Up
." The remaining songs on Brothers are written, performed and produced by The Black Keys.
April 8 - Iowa City, IA




appearing with Mondo Drag


University of Iowa Memorial


April 10 - San Francisco, CA


Yuri's Night Bay Area 2010


April 17 - Oak, FL


Wanee Music Festival Live


April 18 - Miami, FL




appearing with Brian Olive


The Jackie Gleason Theater


April 19 - Orlando, FL




appearing with Brian Olive


The House of Blues


May 20 - NYC, NY


Madison Square Garden


May 25 - NYC, NY


"Late Show with David Letterman"


May 26 - NYC, NY


"Late Night with Jimmy Fallon"


June 2 - Salt Lake City


The Depot


appearing with Brian Olive




June 3 - Denver, CO




appearing with Brian Olive


The Fillmore


June 4 - Kansas City, MO




appearing with Brian Olive


The Crossroads


June 8 - Minneapolis, MN




appearing with Brian Olive


First Ave


June 9 - Minneapolis, MN




appearing with Brian Olive


First Ave


June 10 - St. Louis, MO


appearing with Brian Olive
The Pagaent


June 11 - Manchester, TN


Bonnaroo


July 27 - NYC, NY


Central Park Summer Stage


appearing with Morning Benders




July 28 - NYC, NY


Centeral Park Summer stage


appearing with Morning Benders