The Brilliance of Sharon Jones
Photographic Evidence
by

5342 Studios
Stubb's in
Austin, TX - 3/17/10

The week at 2010 SXSW was a top-ten best experience.
Between the music, the town and new and old friends, it was simply amazing. Now that I'm back, the most common question I get from folks is. "Did you see anything good?" That one, is very easy. There was so much great stuff that I'm sure we will criminally forget to mention someone as we do our articles. The second most common question is harder. "Who was the best?" I always have to chew on this one, but not because the top spot is in doubt. Its because #2 is such a crowded field. The best thing I saw was
Sharon Jones and the Dap Kings
. They are an experience not to be missed.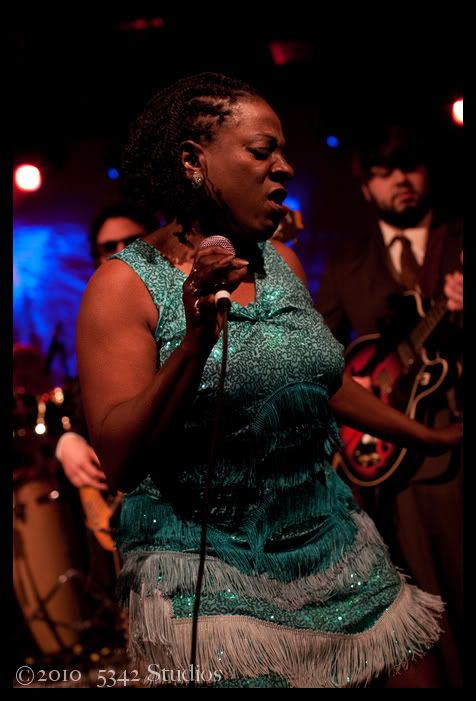 Sharon Jones & the Dap Kings at the NPR showcase at Stubbs
all photos by 5342 Studios
I expected
Sharon Jones
to put on a great show, but I wasn't prepared for the dominating performance I experienced. I got to Stubbs Famous BBQ early to make sure I had a spot at the front. The first thing I noticed was the microphone height. I couldn't help but think that she was a small woman for such a big stage. That was the LAST time that thought will ever enter my mind. After the Dap Kings briefly warmed up the crowd, Sharon Jones came out. She could have been 20 feet tall the way her power filled the stage.
She has a power, a presence and the grace that sucks you in and says "

Welcome to my home.

"
And, she's one hell of a gracious host. I can't think of any other performer that I have seen connect so deeply and intentionally with an audience. Jones' personality is utterly engaging. She is one of those performers whose love for what they do just reaches out and embraces anyone within earshot. I never had a chance to see any of the old-time funk and soul performers, but I wouldn't be surprised if it was a lot like this.
You can hear for yourself by visiting our friends at NPR Music who
recorded this show live
.
RSL Streaming Photo Album
Sharon Jones and the Dap Kings
SxSW performance 3-17-10
This performance aside, if you don't know, Sharon Jones biography says a lot for folks who dream of an artistic career. In brief, after singing in the church choir from a young age, she moved to New York in the 70's where she did a fair bit of uncredited session work. After her style was considered out of fashion in the 80's, she worked as a corrections officer and a security guard until being rediscovered in 1996. The rest, as they say, is history.
Do not miss her at House of Blues Boston on May 27. As a warning, when I bought my tickets a few days ago, there was standing room only remaining. Don't wait around. There is still a very worthy fallback spot available for you at this year's Newport Festival. Sharon will play Fort Adams in Newport on Aug 1.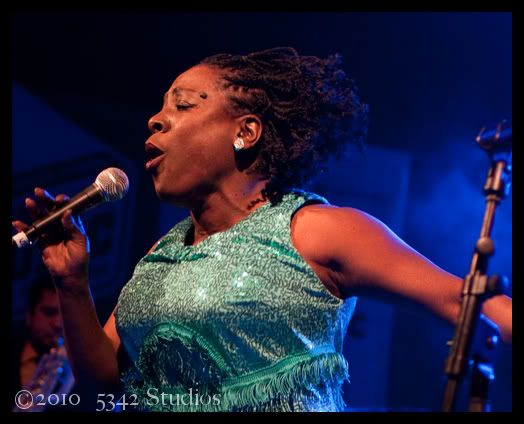 Sharon Jones and the Dap Kings
Web / Myspace / Daptone Records