Led Zeppelin Bootleg
Download It While You Can!
I posted this Led Zeppelin live boot (one of the best live recordings of the band in existence) back in November 2006. Then it remained in limbo until February 2009. After the briefest of stays, I retired it (for good I thought) due to concerns about bandwidth restrictions. There it has remained in the darkness for more than two full years. But last night, I resurrected it for our readers due to a promise made on
twitter
- I vowed if the Bruins won tonight's Stanley Cup Game 4 match (
which they certainly did
) I would again offered up one of the best live shows from my collection. Both previous times I ran the show, it was
very popular
and I had to pull it down to preserve our bandwidth! Several of you requested it over the last few months and I am happy now to oblige...
Recorded in remarkable clarity 36 years ago!
Led Zeppelin play an amazing set...


Long Beach, CA - March 11, 1975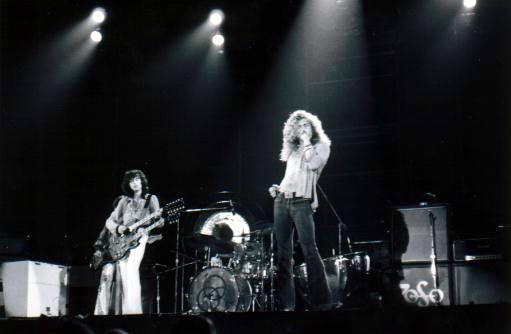 Live material from the foreshortened 1975 "Physical Graffiti" tour!
This recording was made in March of that year - just days after the super popular double-length Physical Graffiti album was released. Led Zeppelin was the most popular band in the world and held the number one position in sales on two continents!
A performance from the tour that was not to be...
Ryan says: "A MUST HAVE RECORDING!"
After finishing the first round of shows that year in the states, Robert Plant and his wife were in Greece on vacation when they got into a serious car accident. The injuries would force Led Zeppelin to put the tour on hold. The few early shows from that spring were all there would be. When the band returned more than a year later much of the magic was lost.
This recording is Led Zeppelin at its peak!
01 - Opening Announcement
02 - Rock N Roll
03 - Sick Again

04 - Over the Hills and Far Away
05 - In My Time of Dying
06 - The Song Remains the Same
[
press to play
]
07 - The Rain Song
08 - Kashmir
09 - No Quarter
10 - Trampled Under Foot
11 - Moby Dick
12 - Dazed and Confused
13 - Stairway to Heaven
14 - Whole Lotta Love
15 - Black Dog
Robert Plant at the Hyatt Los Angeles in 1975.
photo by Peter Simon