Solid Sound at MASS MoCA
A New Collection from 5342 Studios
A Road Trip Most Worthy -
O the travels one's mind takes on a road trip... our 'roam' leads directly to imagination - especially when powered by music. In the case of last weekend, music was the motivator. The inaugural Solid Sound loomed to the west in the guise of North Adams, MA. Little did I know as I embarked on this journey that the festival grounds, the
Massachusetts Museum of Contemporary Art
, would end up the star every bit as much as curators & headliners
Wilco
. These were performances to remember. The potential for Solid Sound's future feels assured.
Nels Cline
Any music festival that bring you Wilco,
will be a good one. And I think that's a fair way for me to begin. In a friendly, carnival procession the crowds were invited to attend new sets on stages sprinkled on the Museum's wide industrial expanse (200K square-feet
big
.) And you know what? Not only were the grounds arresting visually, the planning was nearly flawless. It was easy to get around and enjoy the multi-media experiences of Solid Sound.
A huge win for Wilco.
They won the hearts of new fans. They
supported the Arts
. They proved they are nice guys (dunking booths and $1 waters on a hot day? That's just cool.) And, truth be told: It was difficult for North Adams first timers (like me) to detect where the Wilco ended and the museum picked up. Seamless. None of this was lost to Jeff Tweedy. With a steely focus dissolving into a fierce smile, he and the band went on to light up the night.
Jeff Tweedy
Mavis Staples was a real treat to see live again.
Her inclusion in the festival was instrumental for giving Solid Sound an air of excitement and further promise of authenticity. Staples' new album was produced by Tweedy, who also performs on a few songs. So most came to the Festival anticipating special things on stage. We all came expecting a big stage moment or two. We didn't have to wait long for the magic.
Mavis Staples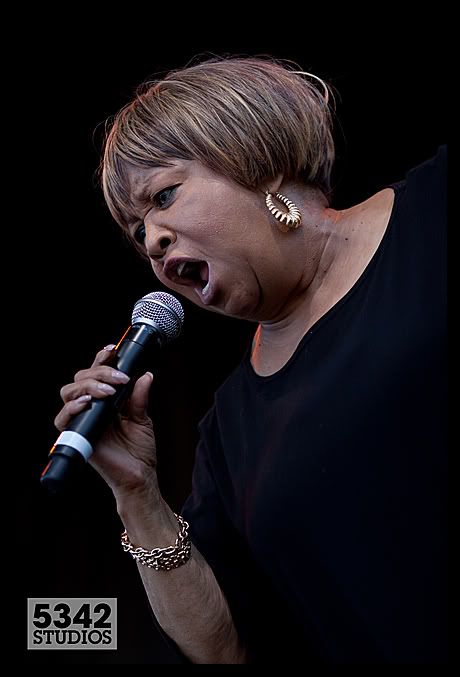 You wouldn't have known it, but
Vetiver's Solid Sound set
was their first in the last three months - not reconvening during those 90 days to practice. (My editor's mind tells me an artist doesn't admit this from up on stage unless they know how good they're sounding at that moment.) This was only my second Vetiver experience in 3 years and I would not be disappointed. Vetiver have a knack of starting their songs with humble beginnings. They build those tracks, slowly, brick-by-sonic brick. By the end of the set they are surrounded by invisible cities.
Vetiver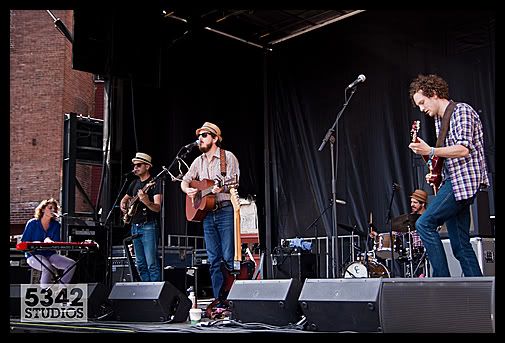 I have to admit, hearing Vetiver play,
"

You May Be Blue,

"
standing next to the soundboard at center, I think I had my moment of the festival. No surprise, this band's great. New dates ahead. Check listings.
RSL STREAMING PHOTO ALBUM
Solid Sound at MASS MoCA - North Adams, MA
Another unexpected treat was Indie All-Star act
The Baseball Project
who played hugely funny baseball homages but actually offered up more skill than humor from stage. The Baseball Project is the product of REM's Scott McCaughey and Peter Buck, Linda Pitmon and Dream Syndicate's Steve Wynn. REM's
Mike Mills
filled in for the absent-Peter Buck admirably. Mills was last spotted by these eyes at the
Alex Chilton tribute show
at Antone's at SxSW this year. For the second time in a year he's proven more than up to the tasks at hand.
Mike Mills w/ The Baseball Project
Other thoughts:
Have to say, we were also really impressed with Vermont's
Mountain Man
. Those ladies have some pipes and we think they were the perfect afternoon showcase. Some chose that time to eat (food was very good and affordable), tour the museum, watch a stand-up comedian, look at art, shop - or just relax.
Bread & Puppet
players (another Vermont addition to Solid Sound) were masterful as usual. Brass and Energy, Theatre and Dance are their elements to win over audience - and they did.
Sir Richard Bishop
was mesmerizing on guitar. To hear his music coming rebounding from distant industrial walls on the MASS MoCA lawn is something I will not soon forget. It was a joy to be in the middle of nowhere - and to be fully engaged.