Big Star's Alex Chilton Tribute in Austin
Ken Stringfellow
of
The Posies
and
R.E.M's Mike Mills
photos by 5342 Studios for Ryan's Smashing Life
AUSTIN, CLOSE TO HEAVEN -
The unfortunate news last week of songwriter Alex Chilton's passing came on the eve of another celebration of his life in Austin, Texas at the annual South by Southwest Music Festival. There, a newly reborn Big Star was to shine brightly - now, not to occur at all.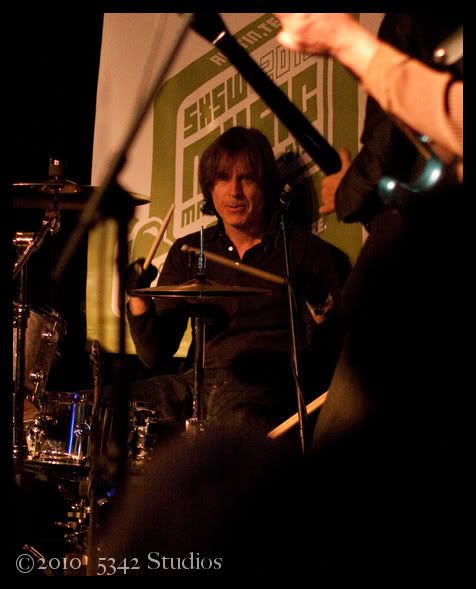 Big Star drummer Jody Stephens
MEMORIES OF AUSTIN -
But with the love and support of friends, family and a few music legends, the show did go on. A small crowd in Austin was treated to a musical tribute worthy of Chilton's fiery spirit and creative legend. The evening would begin with a personal letter from Alex Chilton's widow, Laura, which was read to the audience by his publicist. With each individual memory or peek into his life, we learned time and time again, that Chilton was his own man. He was relayed as both a caring friend and a fiery spirit. Chilton was a creator who influenced many; a real musician's musician. That's when the music started...
BIG STAR & FRIENDS
An Alex Chilton Tribute
Antone's in Austin, TX
*
"Back of a Car"
"Don't Lie to Me"
with Curt Kirkwood of the Meat Puppets
"In the Street"
with Curt Kirkwood
"I am the Cosmos"
(a Chris Bell song)
with Chris Stamey of the dB's
"When My Baby's Beside Me"
with Chris Stamey
"Big Black Car"
with M. Ward
"Way Out West"
with Andy Hummel
"Daisy Glaze"
"Jesus Christ"
with Mike Mills of R.E.M.
"For You"
"I'm in Love with a Girl"
with John Doe of X
"The Ballad of El Goodo"
with Sondre Lerche
"Thirteen"
"Feel"
"Thank You Friends"
with Chuck Prophet
"Nighttime"
with Evan Dando
"Try Again"
with Amy Speace and Evan Dando
"September Gurls"
with the Watson Twins, Susan Cowsill, Mills and Hummel
* Setlist credit:
Thanks to
Jim DeRogatis
ANTONE'S SHONE BRIGHT -
Being at this performance, there was no mistaking what was unfolding before us. This was legendary stuff. I thought, briefly, on the grainy Seventies and Eighties Era videos of rock and pop conglomerates (the benefits, the tributes, the lifetime achievements...) on stage. Those were remarkably wonderful; each magical in their own way. And we had ours. It was an amazing way to remember Chilton - a performer I will never see in-person, but I think many know in spirit.
Jon Auer
of
The Posies
and
M. Ward
High Points:
The very presence of R.E.M.'s Mike Mills, who performed on two tracks, was a real treat. I enjoyed the solid combo of "In The Street" / "I Am The Cosmos." M Ward and the band excelled at, "Big Black Car," and there were more than damp eyes when Big Star and Chuck Prophet broke into the appropriate, "Thank You Friends." Nothing, however, could compare with Sondre Lerche's amazing version of "The Ballad of El Goodo" or incredible show closer, "September Gurls." (Those two really stole the show.) Particularly courageous and heartfelt was Big Star drummer Jody Stephens coming out from behind the kit to speak to the crowd, crediting Chilton as a mentor and a friend.