Wolf Parade in Boston
On Further Review
by Emma Dessau
Photographic Evidence
Wolf Parade at the HOB Boston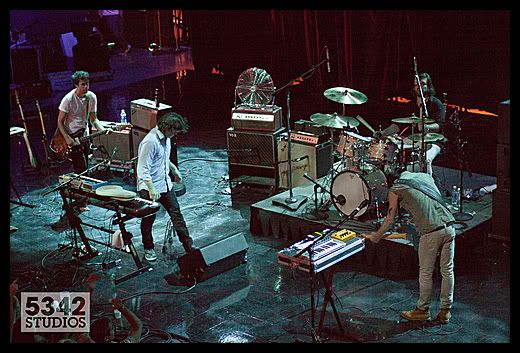 Monday, July 12, 2010
The first time I heard "I'll Believe In Anything," I was volunteering at the stellar independent University of Colorado at Boulder radio station, Radio 1190. As I spent hours silently music-educating myself by indulging in the extensive indie rock collection lining the walls of station's underground lair while simultaneously listening in on the DJs' impressive and knowledgeable conversations, a caller requested "This Heart's On Fire." I remember the on-air DJ saying, "Well, we don't have that on hand right now, but we do have this one by Wolf Parade."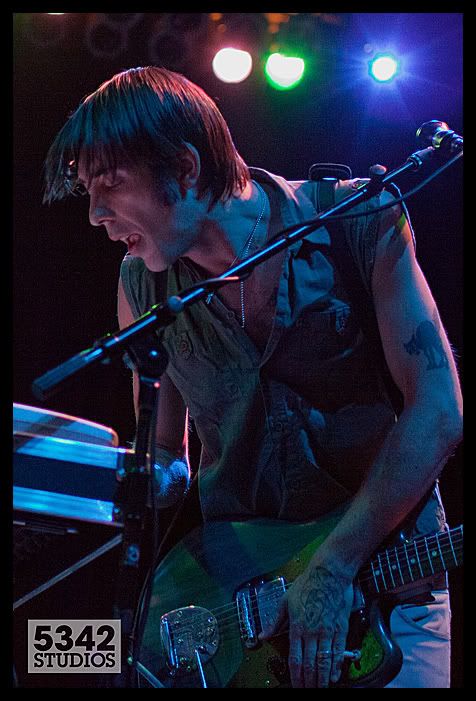 Dan Boeckner
One screeching verse of "Give me! Your eyes! I need! Sunshine!" and I broke my shy silence to sheepishly ask the room where these guys came from. Though I constantly tried to hide my ignorance about indie music as a college freshman, something about the howling voices of Dan Boeckner and Spencer Krug made me buck up and admit I had to know more.
Now I do know more. A lot more, in fact, including the words to every song on Apologies to Queen Mary, the wondrous lacerating crests of Krug's vocals and Boeckner's wailing guitar, the various side projects of these musical prodigies... the list goes on. Still, until this Monday at the House of Blues, I did not know the pleasure of seeing the band perform live.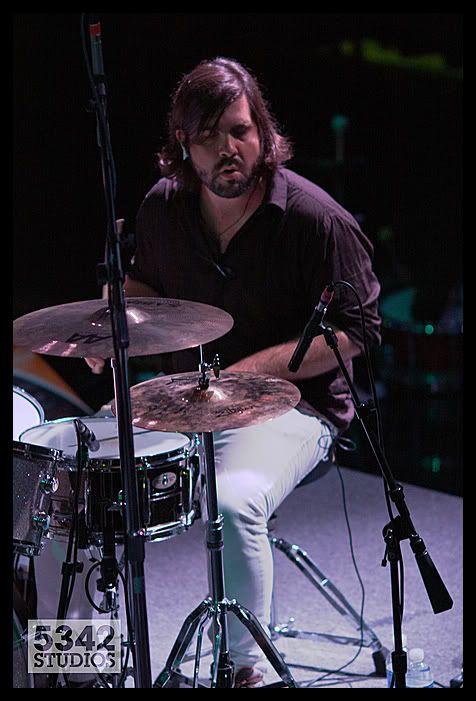 Arlen Thompson
Learning to appreciate every oddity of Wolf Parade takes some time, but once that point is reached, there is no turning back. Their live show only cemented my admiration for their energy and musical prowess, both technical and lyrical. While Boeckner and Krug may appear the odd couple, Boeckner with his lanky tattooed arms and Krug with his teddy bear demeanor, they perform together flawlessly. The conflicting urges to stare at Krug's spazzing back leg as he pounded on the keyboard and watch Boeckner's fretboard at the same time were overpowered by my compulsion to jump and sing along with the rest of the enraptured crowd. The set list varied between their late June release,
Expo 86
, and their past two records. Though I was waiting with bated breath to scream the words to my favorites, new songs like "Yulia" and the bizarre but distinctively Krug-ified "Cloud Shadow on the Mountain" were some of the most climactic parts of the show.
Spencer Krug
Clearly, RSL is not being even remotely impartial when talking about Wolf Parade (see Ryan's
show preview
), but it is hard to present a band you truly love as anything but, well, a band you truly love. Wolf Parade is doing something original with their music. They are never afraid to experiment with eccentric sounds nor nerdy (but awesome) lyrics and themes.
RSL Streaming Photo Album
Wolf Parade World Tour 2010 - Boston
Their respect for their fans is also appreciated. Once a band is big enough to play House of Blues, it is easy to lose that sense of connection at a live show. However, Wolf Parade's gratitude for the crowd on Tuesday was comforting and telling: Though these guys will only get bigger from here, they still just seem to love to play music with each other and for their ever-growing mass of fans.
Dante DeCaro at left - with Krug