SxSW - The Wandas
by Ryan Spaulding
photos by 5342 Studios
Hole in The Wall
Austin, TX - 3/17/10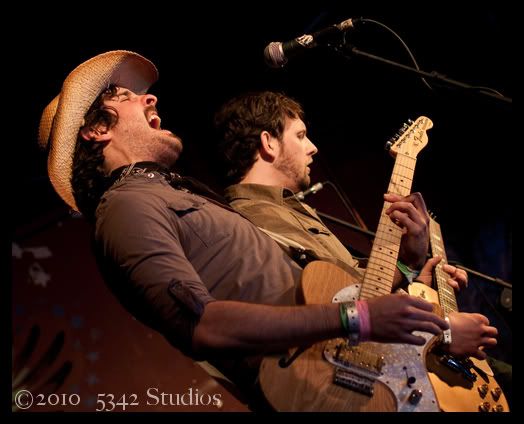 ONE TO WATCH IN 2010
all photos by 5342 Studios
PROBABLY THE BEST LIVE SHOW WE SAW IN AUSTIN -
Our St. Patrick's Day got set off with a bang thanks to
The Wandas
... We are proud to say this Boston act is suddenly (only with much hard work and extensive touring, of course,) one of the best bands in America. As it ended up, they were easily one of the best live shows we saw in Austin last week.

The Wandas have a signature sound.
Currently, the soft melancholy but wholly beautiful, "Lose You," is playing in the background. (I stopped to listen to The Wandas yet again this morning, desiring to consider their music again before drafting out this piece. One after the next, their songs improve in succession. And, most importantly, their newest stuff seems to be their best. That's really promising to this listener.)
Their sonic output is a happy argument between the two halves of the band's collective brain.
The first hemisphere is the indie brain rock
(vibrant song structures, clever lyrics) and the other side hides
the band's underlying secret nature... they are raw, wildly capable and a sometimes-epic live band
. It is at these key moments that country, blues and soul bloodlines shine through the band's quiet exterior.
DISCOVERY 101 -
I've come to observe that how people come to discover a band often colors the way they consider that same band later. (Think of it as the first time you visit a new city. You may remember later, the way the new city's skyline or how it's waterways met your eyes.) With the Wandas, true classification (if needed at all) comes only with lengthy consideration.
You really do need to hear this to believe it.
Their sound is a evolving challenge for listeners - it's
happy work
.
Looking back, The Wandas set in Austin came to have significant and symbolic meaning for me - as it was one of the very first sets I saw in Austin this year.
And certainly one of the best
.