Destroyer at the Paradise Boston
On Further Review &
Photographic Evidence
by
Emma Dessau
The Paradise in Boston - 7/31/2009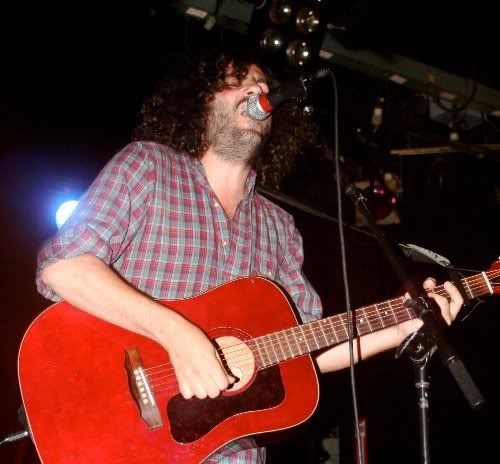 Destroyer
photos by Emma Dessau
As an intensely loyal fan of
The New Pornographers
, I have delved into the solo careers of each tremendously talented part of what is, in my opinion, the super-est of all the super groups. TNP frontman
A.C. Newman
released "
Get Guilty
" this past January.
Neko Case
is blowing up this year with "
Middle Cyclone
," and has been touring almost non-stop. While both artists bring joy to my heart, there is just something about
Dan Bejar
, creator and oftentimes sole member of
Destroyer
, that I just can't get enough of.
DESTROYER IN BOSTON -
Bejar
brought his one man act to the Paradise Rock Club in late July. It was just him, his black curly 'fro, some flannel and a shiny red guitar mesmerizing the crowd with lyrics that continuously catch me off guard: Bejar has mastered the art of simple yet staggering wordplay. His set included songs from Destroyer's newest album, "
Trouble in Dreams
," and stretched back as far as his first album, 1996's "
We'll Build Them a Golden Bridge
," from which he played "
Streets of Fire
." I will restrain myself from going down the never-ending road of incredible song lyrics in Destroyer's catalogue, but I have been known to skip down the street singing, "Sweet, sweet, sweet, sweet fire in the street, let's sully every stage." We will leave it at that.
RSL Streaming Photo Album
Destroyer at the Paradise
"European Oils
"
from the
Rubies
album
LIKENED TO -
Dan Bejar and Destroyer have been compared to David Bowie, primarily because of their vocal stylings. However, Bejar has a definitive Dylan-esque way with words. Each time I listen to Destroyer, I find a new gem. Keep up the good work, Mr. Bejar. I salute you.