One of the Three Best Live Bands in America today
INTIMATE & POWERFUL:
Last week, I saw a live performance worth remembering... A handful of songs and memories that will be with my all year long. And, for
the second time
in less than six months I witnessed further evidence that Cincinnati's
HEARTLESS BASTARDS
are
One of the Three Best Live Acts in America
... The band dances the fine line between charming small-club magic and live rock dynamos. The direction and flow of the night (the
CD Release Party for
The Mountain
) was expertly navigated and controlled by The Bastards' Erika Wennesrstrom, who found herself facing an adoring, near capacity crowd in Boston during a stormy winter night.
The Heartless Bastards

- One of the Best in '09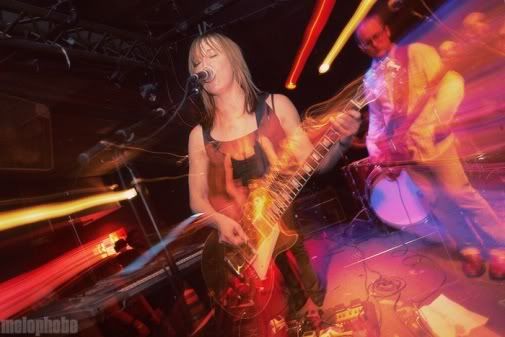 CD Release Party: Great Scott in Allston, MA - 2.3.09
Josh Bean photograph

, courtesy of Melophobe
One of the 3 Best Live Acts in America *:
If you've never seen the Heartless Bastards play live, you should know that when the band begins, rock energy explodes from the stage, and blues mojo billows up in the air like smoke... This was true again last week in Boston as the crowd embraced the visiting band as one of its own - helping the Bastards kick off their tour in style!
The Heartless Bastards were powered that night by the quality of the songs from The Mountain. The tracks on this hot new record were crafted with care and were born to perform on a stage! This much is clear as the band executed the new material flawlessly. The audience of fans, both old and new, exchanged looks of enthusiasm and, at times, stunned silence. This was the first truly great live performance of 2009 - and it could certainly prove to be one of the better shows in Boston all year long! It's at this point, that you realize that this well could be the breakthrough year the band has been looking for. With this type of performance and this amazing new material, anything is possible.
Live in Boston - Photo Diary: 2.3.09 on Melophobe.
When the show was over, the applause was deafening and the smiles, wide. Lots of impressions were made. And more than ever, Boston loves its Heartless Bastards.
2.10.09 - TONIGHT ON LETTERMAN!!!!
Check your local listing!

02.12.09
- Bottle Tree - Birmingham, AL
02.13.09
- Government Street Grocery - Ocean Springs, MS
02.14.09
- Last Concert Café - Houston, TX
02.28.09
- Hailey's - Denton, TX
03.15.09
- The Pageant - St. Louis, MO
03.16.09
- Liberty Hall - Lawrence, KS
03.17.09
- Cain's Ballroom - Tulsa, OK
03.18.09
- SXSW - Austin, TX
03.19.09
- SXSW - Austin, TX
03.20.09
- SXSW - Austin, TX
03.21.09
- House of Blues - Houston, TX
03.23.09
- Lyric Oxford - Oxford, MS
03.29.09
- Mr. Smalls - Pittsburgh, PA
with Gaslight Anthem
04.02.09
- Turner Hall - Milwaukee, WI
with Gaslight Anthem
04.03.09
- The Bottom Lounge - Chicago, IL
with Gaslight Anthem
04.04.09
- Varsity Theater - Minneapolis, MN
with Gaslight Anthem
04.07.09
- The Warehouse - Calgary, AB
with Gaslight Anthem
04.08.09
- The Starlight Room - Edmonton, AB
with Gaslight Anthem
04.10.09
- The Plaza Nightclub - Vancouver, BC
with Gaslight Anthem
04.15.09
- The Boardwalk - Sacramento, CA
with Gaslight Anthem
04.16.09
- Slim's - San Francisco, CA
with Gaslight Anthem
04.21.09
- The Clubhouse - Tempe, AZ
with Gaslight Anthem
04.24.09
- Gothic Theater - Denver, CO
with Gaslight Anthem