Heartless Bastards and the Stellar "The Mountain"
I've said it before and I still mean it.
H
eartless Bastards is the best band name ever!
Do your homework on it and get back to me... I bet you can't change my mind. Anyway, I'm not talkin' Heartless Bastards to celebrate their totally awesome - and completely ironic, name.
Heartless Bastards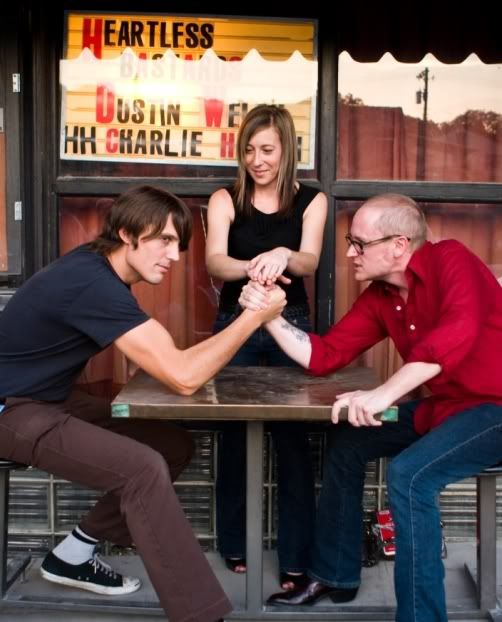 I want to talk about their really stellar new album,
The Mountain
-
set for a February 3rd release
on
Fat Possum Records
. As luck would have it, this staggeringly good bit of indie rock will be released right here in Boston. The band will take the crowd on a stirring, furious dance through The Mountain's rock, and country-stained roots. There will be folk and bits of soul (just you wait to hear
Erika Wennerstrom's
blues-steeped howl!) When Heartless Bastards begin to play I hear the moonshine-drunk Velvet Underground covering the Pixies.
It's kind of like that.
The Mountain

is completely mesmerizing...
02.04.09 - Maxwell's - Hoboken, NJ
02.05.09 - Electric Factory - Philadelphia, PA
with The Black Keys
02.06.09 - Terminal 5 - New York, NY
with The Black Keys
02.07.09 - Terminal 5 - New York, NY
with The Black Keys
02.10.09 - Gravity Lounge - Charlottesville, VA
02.12.09 - Bottle Tree - Birmingham, AL
02.13.09 - Government Street Grocery - Ocean Springs, MS
02.14.09 - Last Concert Café - Houston, TX
02.28.09 - Hailey's - Denton, TX
03.15.09 - The Pageant - St. Louis, MO
03.16.09 - Liberty Hall - Lawrence, KS
03.17.09 - Cain's Ballroom - Tulsa, OK
03.18.09 - SXSW - Austin, TX
03.19.09 - SXSW - Austin, TX
03.20.09 - SXSW - Austin, TX
03.21.09 - House of Blues - Houston, TX
03.23.09 - Lyric Oxford - Oxford, MS
03.29.09 - Mr. Smalls - Pittsburgh, PA
with Gaslight Anthem
04.02.09 - Turner Hall - Milwaukee, WI
with Gaslight Anthem
04.03.09 - The Bottom Lounge - Chicago, IL
with Gaslight Anthem
04.04.09 - Varsity Theater - Minneapolis, MN
with Gaslight Anthem
04.07.09 - The Warehouse - Calgary, AB
with Gaslight Anthem
04.08.09 - The Starlight Room - Edmonton, AB
with Gaslight Anthem
04.10.09 - The Plaza Nightclub - Vancouver, BC
with Gaslight Anthem
04.15.09 - The Boardwalk - Sacramento, CA
with Gaslight Anthem
04.16.09 - Slim's - San Francisco, CA
with Gaslight Anthem
04.21.09 - The Clubhouse - Tempe, AZ
with Gaslight Anthem
04.24.09 - Gothic Theater - Denver, CO
with Gaslight Anthem