Grateful Dead announce 2009 Tour Dates!
The legendary Grateful Dead are going on out the road once again!
The 2009 road shows will feature
Four Original Members
(
Phil Lesh, Bob Weir, Mickey Hart and Bill Kreutzmann) along with
the awesome Warren Haynes (guitars) and RatDog keyboardist Jeff Chimenti. For those who missed it, this is the identical lineup of the "New" Dead that played for an Obama benefit at Penn State last year.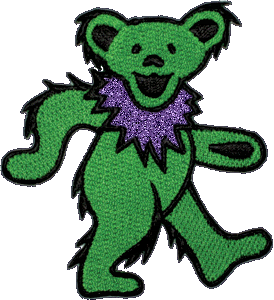 The Dead at the Billerica Forum
Billerica, MA - May 11, 1979
Good Lovin'
For those not into jam band phenomena, the announcement of a Dead reunion and tour has the potential to be a yawn-fest. But
this music blogger
couldn't be more happy to have this opportunity to see the Dead again! I will be counting the days!
I totally respect this band's place in music history and hope many of you make it out to these shows. Tickets go on sale to the public in months -
Presale for these shows in just ten more days
..... Details on
Dead.Net
April 12 - Greensboro, NC
Greensboro Coliseum
April 14 - Washington, DC
Verizon Center
April 15 - Charlottesville, VA
John Paul Jones Arena
April 17 - Albany, NY
Times Union Center
April 18 - Worcester, MA
DCU Center
April 19 - Worcester, MA
DCU Center
April 21 - Buffalo, NY
HSBC Arena
April 22 - Wilkes-Barre, PA
Wachovia Arena
April 24 - Uniondale, NY
Nassau Coliseum
April 25 - New York, NY
Madison Square Garden
April 26 - Hartford CT
XL Center
April 28 - E. Rutherford, NJ
IZOD Center
April 29 - E. Rutherford, NJ
IZOD Center
May 1 - Philadelphia, PA
Wachovia Spectrum
May 2 - Philadelphia, PA
Wachovia Spectrum
May 5 - Chicago, IL
All State Arena
May 7 - Denver, CO
Pepsi Center
May 9 - Los Angeles, CA
The Forum
May 10 - Mountain View, CA
Shoreline Amphitheater