A Look at Adele - the Charmed Singer Plays Boston
Another British Invasion:
Its been a pretty rapid rise for British singer
Adele
, who will be playing a sold out
Somerville Theater
tonight. In fact, as we look forward through her calendar, it's hard to find a date or a performance that isn't sold out at this point. Adele isn't just a musician - she's her own musical movement.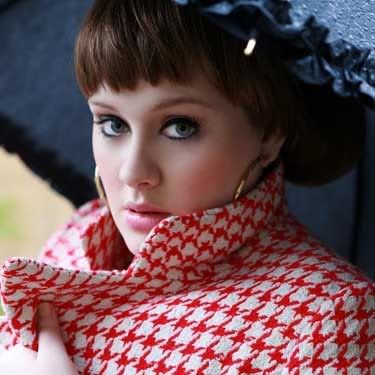 Adele leads the pack here in 2009.
She plays the intimate Somerville Theatre tonight.
Adele is frequently mentioned
in the same breath as great contemporary vocalists
Amy Winehouse
and
Duffy
. Each is similar in that not only are they are British women, but that they pull from the same musical palette. Perhaps with good reason... Adele attended the
BRIT School
for Performing Arts & Technology, which has a fairly illustrious
alumni list
, including
Winehouse
as well as singers
Kate Nash
and
Imogen Heap
. The comparisons may be fair - but, having said this... Adele reminded us in an December interview appearing in
The Guardian
; "We're a gender not a genre".
Everything is still new and developing for this talented singer.
Adele won the first ever
BRIT Critics' Choice Award
for outstanding unsigned artists. She received a
Mercury Prize
nomination and is also up for four Grammys for
Record of the Year
,
Song of the Year
,
Best Female Pop Vocal Performance
for Chasing Pavements and
Best New Artist
. Normally, I think the Grammys are total crap, but they are right in this case.
Adele's debut is
19
- a record that has been met with considerable critical praise and gone certified platinum in sales. (The record is named for the age when she wrote and released it.)
This record is a pleasure
, although says that she was miserable when she wrote the songs for it. (It seems high art and heartbreak always go hand in hand.) Her singles such as "Chasing Pavements" and "Right as Rain" are more highly structured and richly produced than the rest of the album. However, for the most part, the songs on 19 are fairly sparse in their arrangement, which allows the listener to soak in the rich velvet of her voice. Check out this
live set
she did on
NPR's World Cafe
to get a feel for the power of her vocals.
Adele will reportedly be heading out to California later this year to start work on her second album.
I'm looking forward to it. You can follow her adventures on her blog, where she seems to post with some regularity. And, if you can somehow get a ticket for tonight's events, it should be a very special show.