The Invisible Children Benefit
Pause for Cause:
Invisible Children
Thrice's Dustin Kensrue signs a guitar for Invisible Children
DATELINE: LOS ANGELES
We are going to break form here - I want to discuss a cause being taken up by a number of musicians seeking change - and better lives for hundreds of thousands of children and civilians whose lives are being torn apart by endless war.
Dustin Kensrue from
Thrice
,
Switchfoot's
Jon Foreman, Chris Conley of
Saves the Day
and Jim Ward (of
Sparta
,
Sleepercar
and
At the Drive-In
) and Aaron Weiss from
mewithoutyou
will perform a special acoustic concert this Friday in LA to help raise awareness and support for a great cause.
Invisible Children
, a non-profit organization that provides education and economic relief to war-torn northern Uganda, has enlisted some of their biggest supporters to come out to West Hollywood's legendary Troubadour club.
THE BENEFIT CONCERT:
Kensrue will be performing songs from his brand new holiday album,
This Good Night Is Still Everywhere
(released digitally 11/18 on Vagrant) and his debut solo release,
Please Come Home
, which debuted on the Billboard Top 200 chart. "Musicians have so much potential to inspire their audience and include them on issues happening around the world," says Kenny Laubbacher from Invisible Children, "it's amazing to see this group of individuals embrace that power and act on it for a positive influence."
LOS ANGELES BENEFIT ARTISTS:

The concert is sponsored by MySpace, Jedidiah Clothing and SocialVibe, the event will also jump-start multiple auctions for limited-edition and one-of-a-kind band paraphernalia including a Thrice backdrop from previous tours, Riley Breckenridge's drumset, hand painted guitars from Circa Survive, miscellaneous equipment used by Fall Out Boy, and more to come.
The bottom line is if you can't get out to LA
, you can bid online for the
AUCTION
or find another way to help raise awareness or funds for Invisible Children. The
ACCESS THE SHOW FROM YOUR COMPUTER:
Planners just made us aware that fans will able to stream the entire acoustic program from their desktops at
Band Crashers.com
. The site looks to require registration to access the material, so do that now so you don't miss a beat on Friday!
ABOUT INVISIBLE CHILDREN:
Established in 2005, Invisible Children is a social, political, and global movement using the transformative power of a story to change lives. By inspiring youth culture to value creativity, idealism, and sacrifice, the movement fuels the most effective, adaptable, and innovative programs in the world. The movement started with a documentary film about children being abducted and forced to fight as soldiers for a rebel army in northern Uganda.
Children in Uganda have been forced to take up arms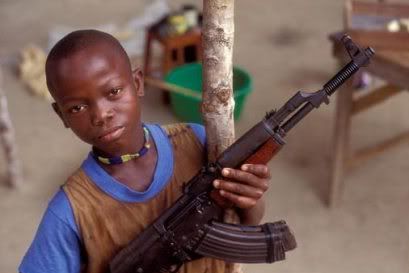 The film, now seen by over 3 million people worldwide, has inspired a global movement of artists, musicians, and activists committed to using their time, talent and money to help end the 22-year war. Throughout the year, Invisible Children tours with bands like Thrice and Fall Out Boy to continue spreading the word and getting people involved.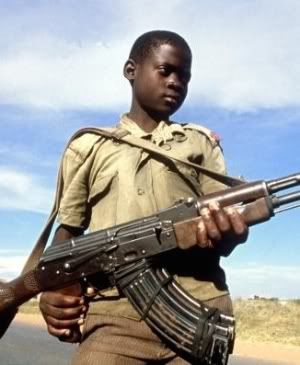 UNDERSTANDING THE CONFLICT IN UGANDA: The war in northern Uganda has been called the most neglected humanitarian emergency in the world today. For the past 23 years, the Lord's Resistance Army (LRA) and the Government of Uganda (GoU) have been waging a war that has left nearly two million innocent civilians caught in the middle. The GoU's attempt to protect its citizens from this rebel militia has largely failed, leaving an entire generation of youth that has never known peace.

The LRA rebel movement can be traced back to a woman named Alice Lakwena. In the 1980s, Lakwena believed the Holy Spirit spoke to her and ordered her to overthrow the Ugandan government for being unjust to the Acholi. Lakwena and her followers, known as the Holy Spirit Movement, gained momentum as resentment toward the government increased. When Lakwena was exiled and no clear leader of the movement was left, Joseph Kony, who claimed to be Lakwena's cousin, took control and transformed Lakwena's rebel army into the LRA.

Kony's LRA did not receive the same support as the Holy Spirit Movement because of their extreme tactics. With dwindling support for their cause and heightened government offensives, the rebels resorted to abducting children and indoctrinating them into their ranks. It is estimated that more than 90% of the LRA's troops were abducted as children.
Ugandan Displacement Settlements
In 1996, as a response to the LRA attacks in the villages, the Ugandan government forcibly evicted thousands from their homes, relocating them into overcrowded camps in hopes of providing protection. But over a decade later roughly 1 million individuals still live in these camps and struggle to survive among the effects of abject poverty, rampant disease, and near-certain starvation. [
MORE HISTORY
]