Newport Folk Festival - Crowds Mightily Entertained, Soaked
PHOTOGRAPHIC EVIDENCE:
THE NEWPORT FOLK FESTIVAL
Saturday - Aug 2, 2008
A deluge in Newport made things very muddy
- but didn't dampen the spirits of the crowd
BragginBilly here. It turned out to be a great day for music, but it was sure was a wet one, for those who didn't make it under one of the very few and very crowded tents at the
Newport Folk Festival
.
The weekend had kicked off on a far-drier evening with a very special performance by
Beach Boy Brian Wilson
- a late addition to the Newport Folk Festival weekend.
I arrived at the festival early afternoon on Saturday after fighting both Boston and Newport traffic jams. I was totally bummed to miss
Jakob Dylan
. There was still so much to see. Here's a glimpse into an entertaining day at Newport:
NEWPORT FOLK FESTIVAL 2008
TREY ANASTASIO
Trey Anastasio hit the stage
and was greeted by screams of "Welcome back Trey!" He just shot back a big smile and dug in. It was only the Phish frontman's
first
second public stage performance and 17 months and he lit it up. (One has to wonder if Trey's performance at the Festival will guide him towards
a Phish reunion
?)
All Smiles and Down to Business
Things have definitely changed for the Folk Festival
- and based on the impressive lineup this year,
one couldn't help but say for the better
. Anastasio was one of the few performers on stage Saturday that went unplugged.
SHE & HIM
Zooey Deschanel
About the time the drops started falling it was time to hit the one big tent to catch
She & Him
. This was very lucky because I managed to get one of the last couple spots under the tent before the deluge arrived. They put on a great show.
Zooey's
voice was as good as you would hope and the sly smiles and sideways looks made for an entertaining, if understated, performance. It was a very happy surprise that you got a lot more
M. Ward
in the live performance then you did on the album. His guitar play added some extra edge to one of my favorite albums of the year so far.
SHE & HIM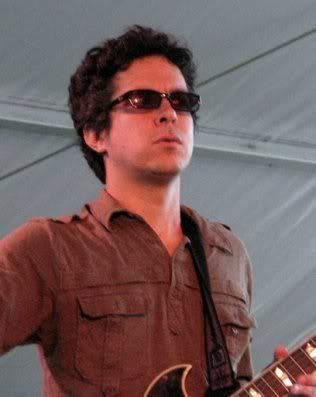 M Ward
An Early Appearance from Jim James!
JIM JAMES (Of MY MORNING JACKET)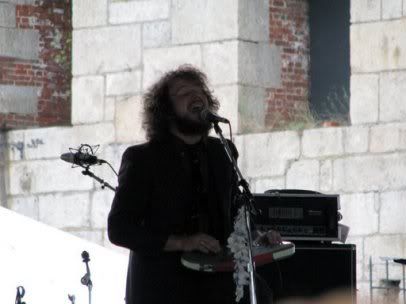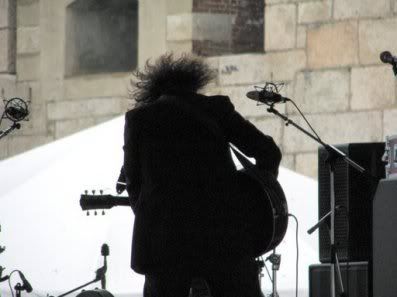 Lettin' it Fly at Newport
Jim James also popped out to do a song with group in advance of his set and kicked up the vibe a few more notches.
Jim James
, of
My Morning Jacket
fame, followed up with an amazing set. He switched back and forth between guitar and something called an
omnichord
. Toward the end of his set he commented about amazing it was to be playing such a storied music festival (it began in 1959) and walking amonst the ghosts of many of music's greats. I think he proved himself worthy of that company.
CAT POWER
As the sun finally emerged emerged it was time for
Cat Power
to hit the stage. Chan Marshall's aggressive stage presence as she stalked from one side of the stage to the other, stood in stark contrast to the soulfulness of their music. Although known for being quite mercurial, the performance went off without a hitch - much to the pleasure of all those who had waited out the storm.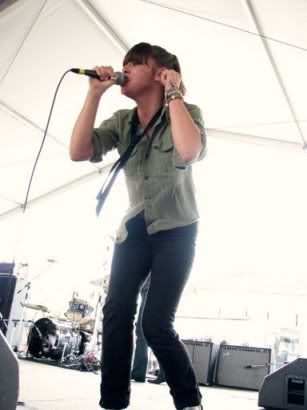 Sunday Recap:
We gracefully defer to our esteemed colleague at
Aquarium Drunkard
.
Thanks to the Planners and Organizers of the Festival. You did a fantastic job and without all your work and careful planning, things would not have gone so well. (Now if we could only get Mother Nature on board!) Looking forward to see how they can top this one in 2009!