Albert Hammond Jr's ¿Cómo Te Llama?
We add this on to the Best of List
for the first Half of 2008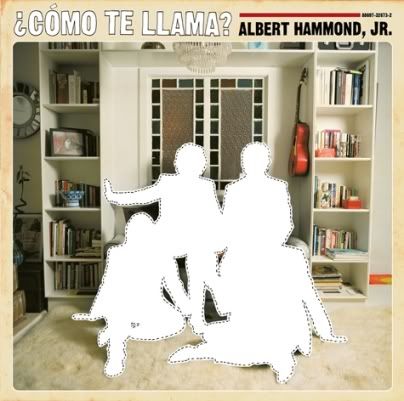 Beginning with great guitars
and a dependable drum beat
, Albert Hammond, Jr's new album kicks it in gear and never relinquishes the listener. It's with little hesitation that we recommend
¿Cómo Te Llama?
(Black Seal Records) adding it to the list of 2008 releases to get distinguished on the Best of List for the First Half of the year.
(The Best of Fire Half 2008 List is coming - but here are some of the records we have told you made the list in recent days:
album,
album
,
album
. Think of it as a shopping list of contemporary good taste and this list will continue to grow until it needs to - you can check out 2007's Hot List for the First Half,
here
.)
¿Cómo Te Llama?
is a follow up of Hammond, Jr.'s highly praised 2007 solo debut
Yours To Keep
. The players on this record include Hammond, Jr., Matt Romano, Marc Philippe Eskenazi and Josh Lattanzi. The record was recorded over 5 weeks at Electric Lady Studios and produced by Albert along with engineer Gus Oberg and drummer Romano.
With one foot in the past and an eye to the future
, Hammond, Jr., is a wonderful example of an experimental rock artist. There are some things he does on this record that aren't necessary profound, but are daring in their own right. The man has a mind for music.
From the Album:
Our favorite tracks from ¿Cómo Te Llama? We love the way that the bass totally dictates
"Victory at Monterey,"
and the way it dissolves into periods of drum and guitar only to return to the bass guitar as the primary motivator. We also love
"Rocket"
- a plodding monster of a song that's its own muse. What starts out like an exercise on rise and fall, we come to understand is a progression (as the title suggests) to the beyond. Pulling, rather than pushing - this track really moves you along. Check these out on the record! .... Here's the single track, "GfC"
WIN AN AUTOGRAPHED VINYL COPY


of ¿Cómo Te Llama?
We are giving away this beautiful record personally autographed by Albert Hammond Jr. to a lucky RSL reader (
U.S. only, I am told, sorry.
) Entry will opt you into Albert's fan email list which is used to update fans on his projects and shows. No other information will be shared. Just
drop us an email
with your full name inside.
Enter the words "

Albert Hammond Jr

" in the subject line of your email
. Winner will be notified and requested to send a mailing address. Good luck!