The Phish Reunion
Are you Ready for

The Return of the World's Greatest Jam Band

?
I'm no hippie but I did grow up in Vermont with it's music in my ears and in my blood. It's a great place to be young. I must have seen this band - Phish - play close to 20 times. And while I moved away and my music tastes changed, that kind of foundation is hard to ignore. Phish for me is a personification, of sorts, of Vermont and vitality.
Bouncing

around the Room:

Phish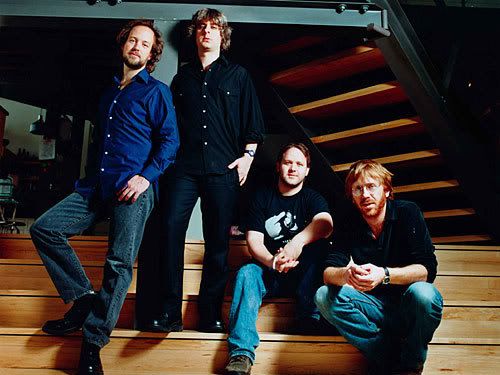 Far from perfect, Old VT is a place that is still capable of adding a lot of character. This is certainly true in the case of Phish. As the waters begin to circle (faithful rumors that the group is reforming to tour and record begin to stir...) I share some tracks with you, share some news and glide with you for a while.
Special Thanks to Jeremy!
Phish took their "

Final Bow

" in 2004
Phish Are
(from left)
Page McConnell (keys and vocals), Trey Anastasio (vocals and guitars) ,Jon Fishman (drums, vocals, vaccuum) and Mike Gordon (bassist and vocals)
Comments from three of the four members (does anyone have a comment from Fishman?) indicate the group is in discussion to reform, record and tour as soon as this year... That can only mean the return of the true jam band. (Move over My Morning Glory.)