New Music from COLD WAR KIDS!
Sophomore Album due in September
:
Three Month Long Tour to kick off in days in Australia
Then CWK play thru the EU & then across America

NEW TODAY:
Cold War Kids offer up the
World Premiere of

"Something is Not Right With Me"
from
the new album

Loyalty to Loyalty
. It's streaming on
the band's myspace page
(all other songs have been taken down as CWKs focus on their new material.)

SOMETHING is NOT RIGHT with ME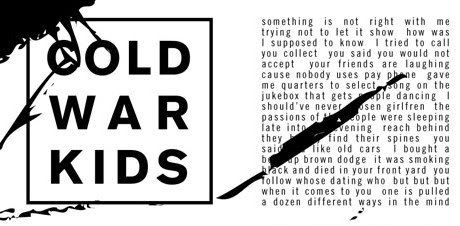 ON THE NEW TRACK:
This one's a burner; an up-tempo number! "
Something is Not Right With Me"
features Nate Willett's easy to distinguish voice bouncing between the notes from Matt Maust's bass guitar. Jonnie Russell's jangling guitar (he plays a vintage Harmony and a Gibson - wonder which one this is?) serves to punctuate the staccato beat forming from Russell and Matthew Aviero's drums. It's classic kids. And not so focused - just fun. (Poetry is rumored to have a big part on the new album. It will be fun to see how they pull this off!) This album and corresponding
world tour
are likely to cause as much noise as any record released this year!
4. Something Is Not Right With Me
Streaming Audio
Download Link
5. Welcome To The Occupation
6. Golden Gate Jumpers
7. Avalanche in B
8. I've Seen Enough
9. Every Man I Fall For
10. Dreams Old Men Dream
11. On The Night My Love Broke Through
12. Relief
13. Cryptomnesia
SONG DEVELOPMENT:
When CWK played Boston last (
appearing on stage with Spoon in December
), they premiered two new songs. One of those was
"Something is Not Right With Me"
and the other was called (at that time)
"Look Out Below."
(I got this directly from their Management.) It will be interesting to see if the second track was simply re-titled or just left off the record.