Elvis Costello - Momofuku
Quirky, Ironic and Relevant:

Elvis - Show 'em how it's done!
Elvis Costello
At 53 years young, the great Elvis Costello has released "Momofuku" - a brand new collection of 12 songs that demonstrate that not only is the artist still a inventive storyteller, but hugely relevant as well. Costello recorded the sessions with backing band The Imposters (Steve Nieve, Pete Thomas and Davey Faragher) but spent some time jamming in session with Jenny Lewis (
Rilo Kiley
- RSL Top 15 of 2007), Johnathan Rice (
incredible singer-songwriter
) and "Farmer" Dave Scher. All the songs appear on this great new collection - in stores now!
4 of 5 Stars - The New One: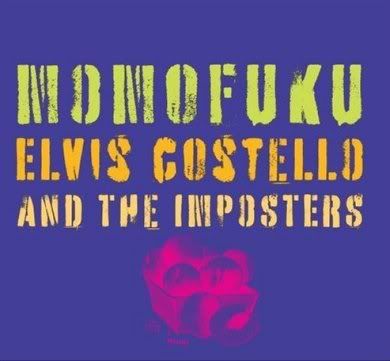 On the Album:
Elvis Costello & the Imposters w/ Jenny Lewis, Johnathan Rice, Farmer Dave Scher & Jonathan Wilson.
Lyric Search - Elvis Costello's "1984" Song from the New Album -
From:

"No Hiding Place"
Two lovers rocking up and down
In an elevator
15 minutes later
They'll make a killing in the market
They knew how to work it
On that close circuit
My, my, it's a terrible disgrace
You'll find these days that there's
No Hiding Place
Elvis Costello has found a way to embrace success, still continue to thrive and grow - without becoming a part of the industry establishment. Bravo Elvis. Stay ironic and keep us guessing!
A reminder to our readers:
Also in Stores now - "
Elvis Costello: The First 10 Years
" I wrote about this one some time ago and it still comes highly recommended. It's a great place to start for new fans. US fans - there are still signed copies hidden in some sealed packaging.
Read All About It!