Bob Marley and the Wailers in California - Halloween 1973
A Superb Wailers Recording -
Soundboard Quality from 1973
Rare Performance:
The Record Plant in Sausalito, CA on Halloween 1973.
THIS REMARKABLE SHOW
is set during the the Wailer's
1973
Burnin'
album tour
through the States. It's a very special time for the group - there is exciting new material to perform and America is paying close attention.
The Wailers had a rotating, changing line-up. This Tour marks the last appearance of what is widely considered to be the best Wailers line-up.
Pete Tosh
and
Bunny "Wailer" Livingston
will soon leave the group
to work on their solo albums, little did anyone know it but this fact would make the moment of this show the best ever manifestation of the Wailers.
This must-have recording is unbelievably still unavailable commercially.
The show unfolds during the remarkable turning point in America's love affair for Bob Marley. The world-wide Reggae revolution would follow.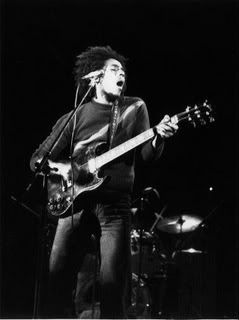 Bob Marley in 1973: photo by Gary Merrin.