One to Watch - DAVID WAX MUSEUM
SPIRITED FOLK FUTURE
BOSTON's DAVID WAX MUSEUM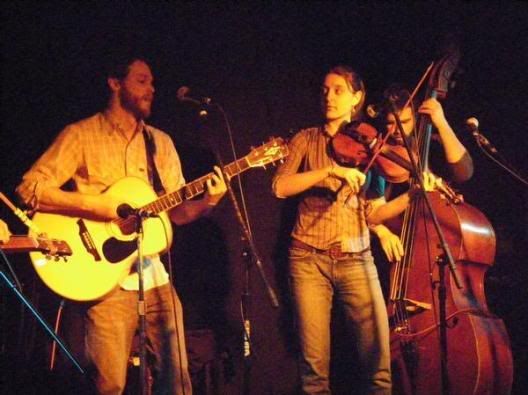 The Real Deal - Listening to D.W.M.'s alt-folk has been a treat

One of the projects that has been sitting on my desk for far too long finally sees the well-deserved light of day today....
Boston's David Wax Museum is a four-piece alt folk group making exceptional live music.
The songs range from roots folk to Americana country. You also can't help but know that when you are hear these songs that you are being told the truth. Substance is increasingly rare these days.
The David Wax Museum play their own instruments, write their own pieces and elect to go completely authentic.
It makes for a real and visceral experience. David Wax Museum is David Wax (guitar/jaranas/voice), Jiro Kokubu (dobro/mandolin), Suz Slezak (fiddle/voice), and Jack McGrath (upright bass/voice).
Roaming and expanse and other times very simple and straightforward, the songs of the David Wax Museum are each their own kingdoms.
Just listen to
"Rosamar"
from the album Turned Off Thinking About. Therein is an blissful intimacy which I defy you to ignore. More playful but just as real is the Museum's
"The Great Unawakening,"
a soaring song that asks us in playful sing-song; "How does one become a citizen of a nation in decline?" It was hard to choose a favorite:
- MUSEUM OPENINGS -
UPCOMING LIVE DATES
May 17
- The Brooklyn Coffee & Tea House
Providence, RI
May 24
- Club Passim
Cambridge, MA
(
recommended
)
May 30
- One Longfellow Square
Portland, ME
Jun 6
- Cherry Street Artisan
Columbia, MOD