Australia's greatest music product is Silverchair:
the album sales say so; the fans confirm it. Silverchair has five #1 albums in their homeland - that's more than anyone else. That list of Number One album releases includes the "Young Modern" (2007) release - Silverchair already sold more than six million copies in Australia (
is that even possible!?
)
The record goes on sales this very week (7/24/07) in North America.
Expect good things from Young Modern is a most triumphant return to music!
SILVERCHAIR are back!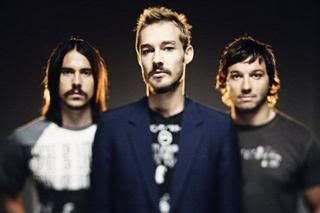 The album is YOUNG MODERN
North America release date - 7/24/2007
In a tiny, almost mechanical and ironic voice - Silverchair frontman Daniel Johns opens the new record with the song "Young Modern Station." In a small, excited rasp he says it all; "The band is back together!" And then the music explodes, unfolding as none in the band's history. It's been five years since Silverchair released new material. In October 2002, the trio released
"Diorama"
- an album that won them six ARIA Awards (the Australian Grammy). For the new record, Johns worked with Beach Boys collaborator Van Dyke Parks to pen and arrange orchestral selections for three songs. (It's an 80-piece orchestra recorded for this record!) Coincidentally it was Parks, who also worked with the band on the Diorama album,who provided the unique title to this Silverchair album. "Young Modern" is the nickname that Parks has called Daniel Johns ever since they met.
It is easy to forget how young Silverchair are. After all - the world, as a whole, has known the band for about thirteen years. Silverchair's three members: Johns (on guitar and vocals), Ben Gillies (drums) and Chris Joannou (bass) are just 27 years-old. The band, initially known as The Innocent Criminals, would change their name to Silverchair just prior to their first demo release - the huge hit "
Tomorrow
" in August 1994. By the end of 1995, the song had spent weeks at #1 in Australia and was one of the biggest singles of the year in the U.S. That would make them amongst the most commercially successful teenagers in music history.
The new album is a highly produced affair. Clean and well-rounded, there is no hint of fuzz or static here. The sound is strong and there is no hiding this fact. Where the album truly does triumph is in tone (upbeat in tone now and pride filled ~ i.e. "we survived all that mess from the past!") The band has never sounded so good either - tight and able, they sound as if they have played together every day for the last five years. We know, of course, that this is not the case. It just gives us another indication that while the world changes - sometimes you can return home again. "Young Modern" is proof. A great album!

The Boston show on July 29, like so many national shows on this tour - has already sold out. Please visit the band's myspace page for an up-to-date tour schedule with ticket availability.