THE OAKS: Songs that Speak, Stories that Sing
Every so often a music release appears in my mailbox that gives me pause and makes me listen hard and think about something other than just songs. That happened again just recently with a very special project called The Oaks. It's an opportunity to hear some tremendous new music and give some attention to worthy causes.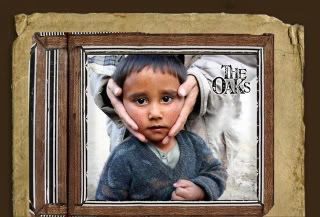 50% of the profits from every album sold will go directly to benefit widows and recently-returned refugees in the mountains of Afghanistan.

At the heart of the project are Matthew Antolick and Ryan Costello - two talented artists who believe in their power to change the world with the deeds and with their music.
Ryan Costello (guitar) and Matthew Antolick (drums) are at the core of the Oaks. With time, new members have been added to the lineup.
The pair met in 1999 while studying at the University of Southern Florida and soon found they shared a passion for music. This common interest led them to share a radio show and later to form a band together. Years apart and distance away (several thousand miles) could not keep the Oaks from coming to be. Here is the story of the band:


The Spirit that Moves them
In 2002 Ryan was accepted into
Global Hope Network
, an organization that focuses on serving in the most remote places around the world. At the beginning of 2003, Ryan went with GHN to Afghanistan, and came back with an overwhelming passion to move there and serve. He then spent 2003 traveling and speaking to raise awareness of the needs in Afghanistan and learning about teaching creative agriculture.
Ryan helped to start the Hope Center for Agriculture and Nutrition Development where farmer's families could come and learn creative agricultural techniques and nutrition and hygiene. Matthew stayed in the States, completing a Master's degree in environmental ethics, teaching undergraduate philosophy courses and playing in various projects throughout the Central Florida area. Eventually, Matt began to pursue playing full time, earning enough through playing drums to support his family. Ryan and Matthew kept up email correspondence, exchanging occasional song ideas. When Ryan returned home, he and Matthew began recording the Oaks album in Matthew's livingroom.
PLEASE CONTACT THESE GUYS AND BUY A CD AND SUPPORT THEIR EFFORTS.
50% of the profits from every album sold will go directly to benefit widows and refugees.
A BLOG EXTRA -DIGGING DEEPER:
The Oaks wrote a song about him: Hugh Thompson's story
A U.S. Army helicopter pilot, Hugh Thompson was flying a reconnaissance mission over the South Vietnamese village of My Lai on March 16, 1968 when he spotted the bodies of men, women and children strewn over the landscape below. He ordered the helicopter down near a bunker in which a group of about 10 civilians were being menaced by American troops. Using hand signals, Mr. Thompson persuaded the Vietnamese to come out while ordering his gunner and his crew chief to shoot any American soldiers who opened fire on the civilians. None did.

Thompson reported the killings to his superior officers in a rage over what he had seen. He would later show his resolve by finding the strength to testify about what he had seen at the military inquiries. It was not until 1998 that Thompson was awarded the Soldier's Medal for heroism not involving conflict with an enemy. Thompson died of cancer-related illness earlier this year.
~
Check it out: