JC Brooks & the Uptown Sound
Austin, TX - Saturday 3/17
19 Acts & Completely Free!
We add the Chicago Soul Kings!
"JC Brooks and the Uptown Sound describe themselves as a post-punk soul band, but their sound is so much more expansive than that. Uptown Sound is on par with soul musicians from the heyday of the genre's popularity." --Paste Magazine

Born in the great melting pot of Chicago's Uptown neighborhood in 2007, guitarist Billy Bungeroth, drummer Kevin Marks, and bassist Ben Taylor (Beat Down Sound/September Sessions soundtrack) joined forces with the Lowdown Horns to lay a ferocious foundation for the soulful shouts of Mr. JC Brooks. The son of a Jersey funk diva set adrift by the disco era, he's renowned for his take-no-prisoners stage style, giving you no other option than to get up and move!


JC Brooks & the Uptown Sound (JCBUS) has always maintained the work ethic of never just 'giving a concert' but putting on a full-on extravaganza packed with theatricality, tons of heart, and buckets of sweat—they can't help it: Guitarist Billy Bungeroth directs at the famed Second City theater, while Brooks has received accolades as an actor for his performances in "Ragtime," and most recently, the Chicago production of the Tony-award winning musical, "Passing Strange" (where his band mates also served as the on-stage house band).


The Uptown Sound has shared stages and supported an eclectic array of artists, from legends like Robert Plant and Buddy Guy, to indie faves Peter Bjorn & John, Wilco and the Dismemberment Plan, and soul stirrers Fitz & the Tantrums, Lee Fields, and Naomi Shelton & the Gospel Queens—proving that no matter who they share the bill with, JCBUS can make any stage feel like home.

JCBU@ the Wilco-curated Solid Sound Festival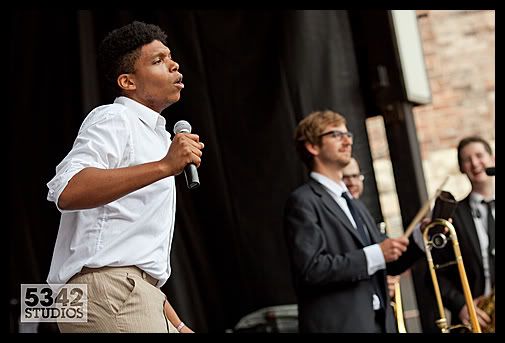 "Want More" (live)
JC Brooks has a few select appearances set in Austin during SxSW 2012.
We couldn't be happier to bring one of this country's finest live acts to The Outlaw Roadshow on March 17th. They join a free, seven-hour lineup of bands.
RSVP
today! Plan to spend the day with us - the music never stops!
JC Brooks & the Uptown Sound