The Dirtiest New Music out of Boston
Behold, DIRTY BOMBS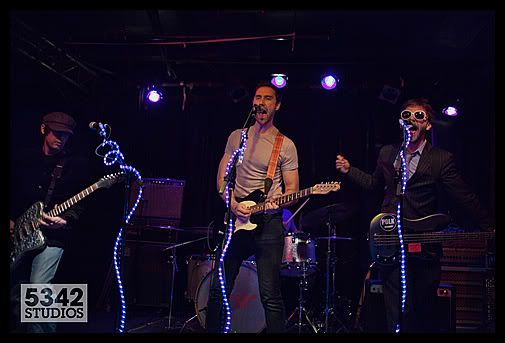 Dirty Bombs - In Every City
World Premiere - their new song!
New Music Of Note - Ian "Darkness" McCarthy - lead vocals, bass, synths (ex-Conservative Man), Jason "Shinobi" Dunn - lead vocals, guitars, synths (The Luxury), Nick "Word" Post - lead vocals, guitars (ex-Televandals) and Ryan "Robo" Magnasco - drums, backing vocals (ex-Televandals)are Dirty Bombs.
Back on Feb 17th (that seems like forever ago, doesn't it?) Dirty Bombs played a hugely popular live set at the Ryan's Smashing Life / Boston Phoenix
live showcase
at
Great Scott
. Thanks to the camera work of RSL Photo Editor,
5342 Studios
- you are getting these photos of one of the region's freshest new sounds. That show got them some attention and more is to come.
RSL Streaming Photo Album
DIRTY BOMBS at GREAT SCOTT - Feb 17, 2011
Boston folks can find out for themselves on Nov 11 as Dirty Bombs unleash their new EP, "Alpha Transmission" at
The Pill
. [
RSVP
on Facebook] For those who just can't wait, here the new streaming single from the record, three weeks in advance -
that's
how we do.
* now under construction