Must-Have 2011: HEY ROSETTA
RSL 2011 Music Picks
Best of the First-Half Nominee...


Quietly, Oh so ever whisper-y sweet, you have somehow missed this premium act from St. John's, Newfoundland. Hey Rosetta's new effort, Seeds, is quite possibly the best effort of their career, their live show is phenomenal (unfolding like a soft rain but climbing to that of a powerful thunderstorm!)

As I sit and type these words in Toronto at the NxNE Music Festival, special thought and consideration now go to Hey Rosetta! for Album of the Year, Live Act of the Year - and now they stand (most deservedly) to take home Canada's much respected- and sought-after Polaris Prize. Ladies & Gentlemen, after seeing this lot play some 4x over the last year - I say without pause that they're currently favorite act out of Canada. And the business is booming in this country right now, producing quality music at a frenetic pace. (Recall, you are reading the words of a Boston writer sitting at a desk in Toronto this morning - as I set about uncovering the next great mystery here.)
The New Album
Hey Rosetta! - Yer Spring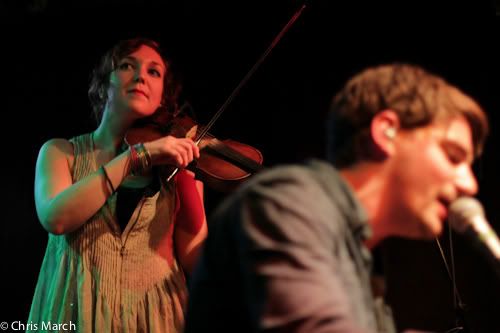 For me there is no great praise than sharing this photo set from May 25th in Boston, and perhaps imparting the emotion that the set brings. Near the end of the performance (the last night on the Spring leg of the Hey Rosetta! tour, the band experimented for a bit, changing things up and letting their hair down. Perhaps that was a harbinger for what will come this summer. Regardless, I warn our readers in Canada to catch them on tour at festivals this summer. (They will play not far from where I am right now in just two weeks.) But rest assured, our Canadian readers already know the band quite well and already recognize them as one of the best in North America. And in this, you and I are both ahead of the rest of the world.


RSL STREAMING PHOTO ALBUM
HEY ROSETTA! in BOSTON - 05/25/11

July 1 - Toronto, ON
Downsview Park
(w/ The Tragically Hip, Weezer, Broken Social Scene)
July 7 - Winnipeg, MB
Shaw Park
(w/ The Tragically Hip, Broken Social Scene)
July 8 - Ottawa, ON
Cisco Bluesfest
July 14 - Edmonton, AB
Northlands Grounds
(w/ The Tragically Hip, Broken Social Scene)
July 15 - Vancouver, BC
Deer Lake Park
(w/ The Tragically Hip)
July 29 - North Bay, ON
North Bay Waterfront
(w/ City & Colour)
July 30 - Montreal, QC
Osheaga 2011
August 7 - Halifax, NS
M-Fest