Introducing: Aunt Martha
Best of 2011 Music Series
One to Watch:


An Introduction to Something Great -
Following three months of touring the country behind their new album, New Hampshire based indie folk trio
Aunt Martha
have met many a restless heart and left many a fan in their wake. The young, impressive threesome have impossibly (but deservedly) been named as an act at this years
Bonnaroo Music Festival
where they stand to meet many thousands of like-minded souls from the stage.
Singer Tim Noyes' voice is arresting and immediately relevant. The storytelling on the new songs from the Bloodshot EP (2011) would appear to be churned from souls older (depths much deeper) than the years on these young bones. The use of drums and violin are remarkable in the way they fill the air full of emotive light. The closest thing I have heard this year is
Hey Rosetta!
, a favorite act from Canada. This comparison should not be taken lightly. Hey Rosetta! are accomplished, seasoned players and (just in case you failed to notice) there are only but three members of Aunt Martha. There's something special happening on that stage.
The road ahead has much promise and excitement in store. We will be there watching and we will not be alone. Best wishes boys. There are many miles to go before you sleep...
Aunt Martha have arrived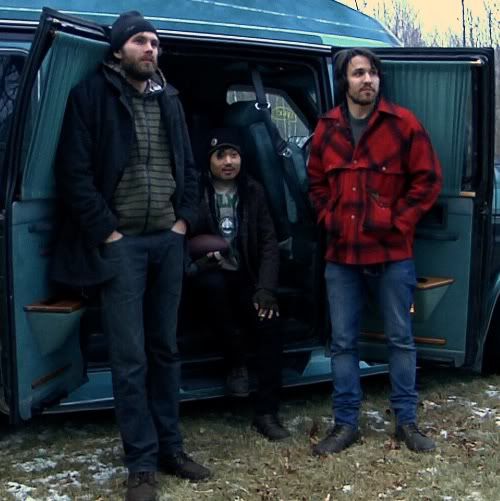 5/5 -
The Middle East
- Cambridge, MA
5/6 - The Skinny Pancake - Burlington, VT
5/17 - The Grape Room - Philadelphia, PA
5/18 - Side Bar - Baltimore, MD
5/19 - DC9 - Washington, DC
6/2 - Lexington Avenue Brewery - Asheville, NC
6/6 - WDVX Blue Plate Special - Knoxville, TN
(in studio performance)
6/6 - Preservation Pub - Knoxville, TN
6/7 - The Basement - Nashville, TN
6/8 - The Listening Room Cafe - Nashville, TN
6/9-12 -
Bonnaroo
- Manchester - TN