An East Coast Run for RIBS
Words by Nick Parker
Photos by Mark Jenko
New Tour Kickoffs
This Thursday night in Boston you can see a band that tick all these boxes; a band that knows the difference between performing and merely playing their songs, musicians that really commit to every beat of the drum and pluck of the string, and songs with hooks you'll be singing after the set is over. Since their incendiary (and insanely loud) headline set at the RSL four-year anniversary party a few months ago,
RIBS
have been busy plotting their next musical take-over. It comes in the form of an East coast tour, and, since we can say they are ours here in Boston before they are anyone else's, where better to kick that off than at Great Scott.
RIBS are an unashamedly heavy band. In a sea of indie, folk and Americana, they play music that shakes through your ribcage (no pun intended). I've read of various more or less strange comparisons (Joy Division?!) – perhaps
Deftones
is the best parallel with the operatic scale of their semi-metal sound. Either way though, the buzz about his band is worthy, and you can give them a great tour send off this week if you find yourself in the right place at the right time. The rest of the dates on the East Coast spin, follow...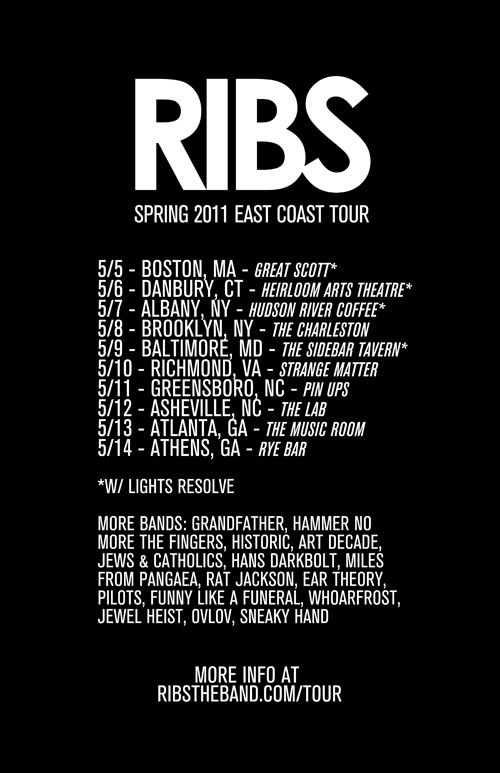 RSL Streaming Photo Album
RIBS at TT the Bears - Jan 28, 2011
05.05 – Boston, MA* – Great Scott – Facebook / Tickets / Details
05.06 – Danbury, CT* – Heirloom Arts Theatre – Facebook / Details
05.07 – Albany, NY* – Hudson River Coffee House – Facebook / Details
05.08 – Brooklyn, NY – The Charleston – Facebook / Details
05.09 – Baltimore, MD* – Sidebar Tavern – Facebook / Tickets / Details
05.10 – Richmond, VA – Strange Matter – Facebook/ Details
05.11 – Greensboro, NC – Pin Ups – Facebook/ Details
05.12 – Asheville, NC – The LAB – Facebook / Details
05.13 – Atlanta, GA – The Music Room – Facebook / Details
05.14 – Athens, GA – Rye Bar – Facebook / Details
* Dates w/ Lights Resolve

NEW: Ltd Edition Tour T-Shirt