Michael J Epstein Memorial Library
by Nick Parker
The Dean's List or Musical Librarians?
WELCOME TO THE LIBRARY - Perhaps the most important thing about being admired on any music scene is to remain a little obscure, a little hard to understand, and a little unpredictable. You need to leave us wondering about where you're really coming from, and what might be next. Michael J. Epstein sits at the very center of our scene because he has done all of these things very well indeed. All this doesn't even allow for how prolific he is, and – oh yeah – it's worth mentioning that the music is really good too.

EPSTEIN IS A MASTERMIND - The twists and turns of his different musical projects show really well what I mean about being unpredictable. After the more digestible rock of "The Motion Sick," he joined "Neutral Uke Hotel," helping to give us a whole new spin in the seminal 90's band of a very similar name. Then there is his work with his wife Sophia Cacciola (also of MJEML) on the art-rock, 'no-wave' band "Do Not Forsake Me Oh My Darling" (thrashing, howling art-punk rock that just won them all the way to the Rumble Semi-Finals), before we arrive at his other current group, the strangely titled – in fact strange all round – project called "The Michael J. Epstein Memorial Library."
The Library's Debut looks an Awful Lot like a Book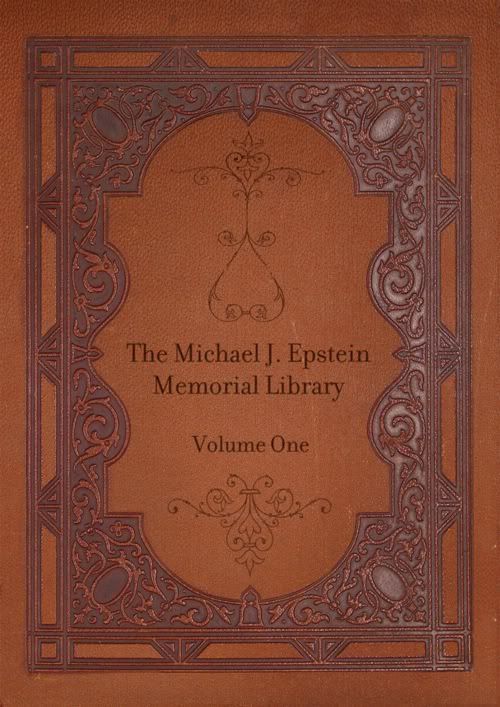 The Michael J. Epstein Memorial Library - Amylee
VOLUME ONE - This last is perhaps his most odd group to date. Founded only last summer, after Epstein went searching for collaborators on craigslist, this nine piece band are about to release their debut, called "Volume One" (the least surprising part of the project), on May 10th. They have a perfectly crafted image of library themed shots of the band, and a website which proudly states that we should "please bear with our electronic card catalog system while we complete our upcoming downgrade to a physical card catalog."

I suppose the risk with this kind of image building is that it could obscure the music that the project has to ultimately be about. I was relieved to discover then, that "Volume One" is full of really well produced, soft-spoken music. It's an album that gently pulls you in until you find that you've been listening to it for hours. Even the darker songs, like their cover of The Bad Seeds "The Weeping Song," are reformed into the bands gentle tones.

I have only recently finally met Epstein, having seen him pass through many, many shows around the city that I've been at over the last few years. It's no surprise that he knows very well what's going on around Boston – in one form or another he's been involved in much of these developments. Not only has he been involved in at least four big bands over the last few years, but he and Cacciola also were among the founders, in '08, of the excellent Boston Band Crush blog.
All these worthy contextual extras help to provide a definite creative heft to all of Epstein and Cacciola's work. And it's certainly audible again here with the Memorial Library project. Skilled musicians, often friends have gravitated to working with this New England music power couple and the results speak for themselves.

Perhaps the most fun part of listening to any of Epstein's musical work, is wondering what-on-Earth he's going to dream up next! The Memorial Library will be playing with Neutral Uke Hotel and Golden Bloom on April 20th, and then heading out on six more tour stops after that.
MICHAEL J EPSTEIN MEMORIAL LIBRARY TOUR
with NEUTRAL UKE HOTEL and GOLDEN BLOOM


4/20 Brighton Music Hall
Boston, MA
4/21 Cameo Gallery
Brooklyn, NY
4/22 Grog Shop
Cleveland, OH
4/23 Schubas Tavern
Chicago, IL
4/24 Gabe's
Iowa City, IA
4/26 Garfield Artworks
Pittsburgh, PA
4/27 World Cafe Live (Upstairs)
Philadelphia, PA