Sebadoh
This Thursday Night:
the Paradise in Boston
tickets still available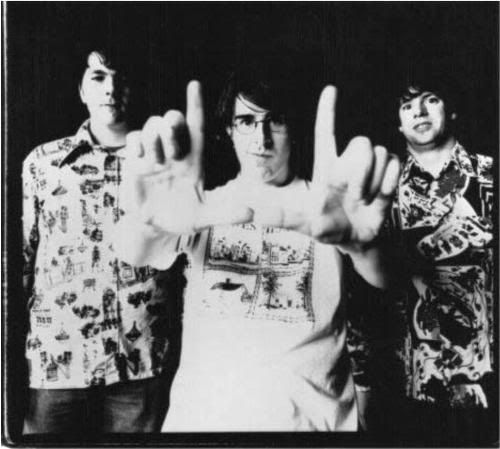 Sebadoh in 1993
It's always a moment of mixed feelings, when you can revisit something that you powerfully identify with your youth. There are the fond memories of the obsessive passion that music can elicit in your teens, but then there is some sadness that that time has passed. This Thursday at Paradise I will get the opportunity to revive those days, at least for an hour or two, and I'm grateful for it.
There are for me few musical memories more powerful than the summer I spent, in 1994, listening to NOTHING but
Sebadoh
's Bakesale album. Between the various versions of the band that have existed off and on for more than twenty years, Bakesale was perhaps the apex of Sebadoh's ability to write songs that were both intensely moving and yet energetic and fun.
That combination was some achievement, mixing the visceral poignancy of the early, genre defining lo-fi recordings, and the pace of indie-rock classics by bands that would go on to win a bigger following, but never capture the weight that Lou Barlow, Jason Loewenstein, and (at that point) Bob Faye could muster.
Even without the mainstream fame, Bakesale, and it predecessor Bubble and Scrape, would ensure that Sebadoh would move out of the shadow of Lou Barlow's old band
Dinosaur Jr
for ever. Lou has since patched things up with J Mascis, and re-launched a shadow of the former greatness of Jr, and videos from Bakesale like "Skull" feature images (blink and you'll miss them!) of Jr in its heyday.

It's interesting to think about the connection, because Jr's attempt to generate new material has largely been a dud, so it seems very wise for Sebadoh to re-release Bakesale now, instead of trying surpass it.

If Sebadoh can capture half of what they pulled off in '94, this will be a show that will be hard to beat by any band coming in Boston in the near future. Just for the chance of that, you should be in the front row.

Complete Tour Dates

Tonight: New Haven @ Daniel St 

03/24 Boston @ Paradise 

03/25 Philadelphia @ Johnny Brendas 

03/26 DC @ Black Cat 

03/27 Carrboro @ Cats Cradle 

03/28 Atlanta @ The Earl 

03/29 Orlando @ The Social 

03/31 Birmingham @ Bottletree 

04/01 Nashville @ Mercy Lounge 

04/02 St Louis @ Off Broadway 

04/03 Chicago @ Lincoln Hall 

04/04 Cleveland @ Grog Shop 

04/06 Toronto @ Lee's Palace 

04/07 Montreal @ La Sala Rossa 

04/08 Northampton @ Pearl St 

04/09 New York @ Bowery Ballroom 

04/10 New York @ Bowery Ballroom