DeVotchKa
Someone You Should Know
by Julie Stoller
Boston upcoming:

DeVotchKa are at the forefront of bands who have never felt beholden to any particular style of music, but instead, use a diverse musical palette to allow their intuitive sense of a song's personality to inform it in an organic and natural way. This of course drives any journalist crazy who attempts to pigeonhole and label, or even to vaguely describe. I've taken a wild stab myself with "Eastern European combined with Spanish Bolero, gypsy traditions, folk, and punk", but even all that is only a small part of the story, and is a disservice to this remarkable band, as it suggests that they won't add even more ingredients into the mix, which of course they've gone and done with their latest release, 100 Other Lovers. This new genre they're experimenting with and integrating into their unique sound is possibly the most unusual and unexpected of all: indie-pop.
Beginning with a lush orchestral piece worthy of an epic soundtrack, the album has not only their trademark exuberant gypsy vibe, but also a softer, more sentimental touch. The songs speak of how love alters the psyche, swells and misshapes the heart. In the title track, Nick Urata sings, "Oh the things I will believe / Ignore the 100 lovers / You got hidden up your sleeve / The words come easily and they sound so lovely / I guess it's just as easy if you lie to me." An incredibly sweet and touching video for this song helps to illustrate yet another dimension to DeVotchKa, adding to their fascinating, uber-classy, and wildly romantic presence.
When I first saw DeVotchKa, they were opening up for fellow genre-defying band Gogol Bordello. Their music has been an "eye opening and ear expanding" experience for me, perfectly capturing and celebrating the multi-ethnic, multi-cultural, super-connected world of dissolving boundaries we now live in.

Originally a backing band for a burlesque troupe, they first released SuperMelodrama in 2000, and toured extensively in support of several self-released albums. The title song from the brilliant How It Ends (2004) was featuring in both film and television, and introduced their music to a wider audience, as did their soundtrack to the 2006 film, "Little Miss Sunshine," which earned them a Grammy nomination for 'Best Compilation Soundtrack.'

The four multi-instrumentalists that comprise DeVotchKa bring with them a wide-ranging mix of backgrounds. Classical violinist Tom Hagerman also plays keyboards and accordion. Jeanie Schroder, on double-bass and that most unlikely of rock instruments, the sousaphone, once performed in a Civil War recreation band. Shawn King (drums, percussion, trumpet), was raised by Lithuanian polka musicians, and studied mariachi horn music. Lead singer, guitarist, bouzouki, piano, trumpet and theramin player Nick Urata has Sicilian and Gypsy roots. Together they create a sound that's both exotic and warmly welcoming, with Urata's emotional, romantic crooning at its center.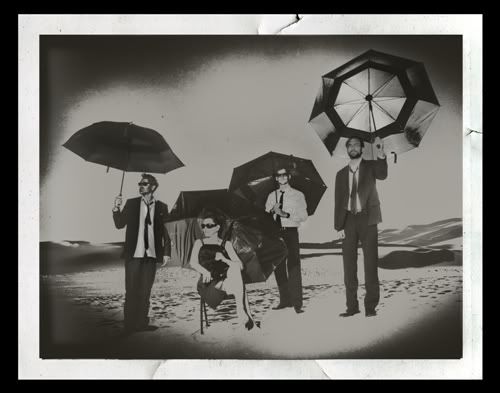 "100 Other Lovers" was recorded with producer Craig Schumacher (Calexico, Neko Case) in the Arizona desert, and features guest percussionist Mauro Refosco (of Thom Yorke's band Atoms For Peace), and members of Calexico. It was released on Anti-, whose tagline is "real artists creating great recordings on their own terms". Indeed.

DeVotchKa will be performing at the Paradise on Saturday night with Mariachi El Bronx, another band that freely follows wherever their creativity leads them; performing their Mariachi style music under this name, and indulging their hardcore punk side under the name El Bronx.
Devotchka dates:
Thu Mar 24 - Highline Ballroom - NY, NY
Fri Mar 25 - Electric Factory - Philadelphia, PA
Sat Mar 26 - The Paradise - Boston, MA
Mon Mar 28 - Higher Ground - South Burlington, VT
Tue Mar 29 - Le National - Montreal, QC
Wed Mar 30 - The Mod Club Theatre - Toronto, ON
Thu Mar 31 - House of Blues - Chicago, IL
Fri Apr 1 - First Avenue - Minneapolis, MN
Sat Apr 2 - Univ of IA Union Ballroom - Iowa City, IA
Sun Apr 10 - Vive Latino Festival - Mexico City, MX
Jun 9-12 - BONNAROO - Manchester, TN