Vessels - The Trap
by Nick Parker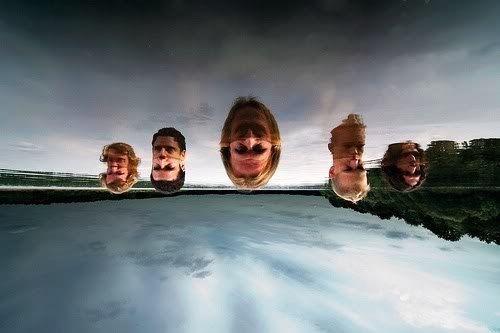 Vessels
If you were to come up to me in a bar and tell me you have a great band for me who: (1) are mostly instrumental; (2) are incredibly intricate in their song-writing; (3) play experimental metal at a lot of points and who (4) rarely write a song shorter than six minutes, you wouldn't have persuaded me to buy you a beer for their name. You obviously wouldn't have read anything I've written before either, because I hope I've made it clear over the years that I'm obsessed with lo-fi music.

I'm about to ditch all my long-held beliefs about what's really important in production though, and tell you about a band who do lots of the things I dislike in music, but pull-off something really interesting from their efforts.
Vessels
are from Leeds, England. Their 2008 debut, "White Fields and Open Devices," brings together five people who obviously have a very sophisticated understanding of music in theory and practice. They often dispense with any singer at all, and when they do have one band member or another sing, it feels like it's really not central to their sound. Their instrumental tone has a little
Biffy Clyro
in it, and a little
Tool
too I suppose, and it has as wide a range of dynamics as any good metal band would desire, leading up to crescendos sections with an orchestra's care and delicacy.
There are drawbacks to Vessels' huge dynamics. Listening to their first album can be a risky business. Tracks like Yuki sound so delicate and beautifully slight that they you turn the stereo up and up until… they hit you with a massive flare, and your eardrums collapse under the pressure. Though I don't advocate deafness as a result of any listening experience, Vessels seem to demand either that you constantly fiddle with the volume control, give yourself up to the damage that listening to something of this scale requires, or, worst of all, miss out on some of their fascinating music.
Vessels' second album, Helioscope, is on the way in March this year, and they have treated us to a new video of upcoming single "The Trap," which gives a sense of all the strangeness that they can put together:
Does this support for an intricate, instrumental, HI-FI band make me a hypocrite or an open-minded observer I wonder? Probably neither. It just means I have to acknowledge quality when I hear it.

For Our Brit Friends; UK Tour Dates:
Sun 20 February - The Duchess, YORK (with Stuart Warwick)
Mon 21 February - The Captain's Rest, GLASGOW (with Stuart Warwick)
Tue 22 February - The Lemon Tree, ABERDEEN (with Stuart Warwick & Debutant)
Wed 23 February - Hustlers, DUNDEE
Thu 24 February - Speakeasy, BELFAST (with Kasper Rosa)
Fri 25 February - The Workman's Club, DUBLIN, Ireland (with Stuart Warwick & Enemies)
Sat 26 February - The Quad, CORK, Ireland (with Stuart Warwick)
Mon 28 February - The Harley, SHEFFIELD (with Stuart Warwick and Emphemetry)
Tue 1 March - Academy 3, MANCHESTER (with Stuart Warwick)
Wed 2 March - The Borderline, LONDON (with Stuart Warwick)
Thu 3 March - Jam, BRIGHTON (with Stuart Warwick)
Fri 4 March - The Haymakers, CAMBRIDGE
Sat 5 March - British Wildlife Festival, Brudenell Social Club, LEEDS