McLovins
The McLovins play The Middle East tonight.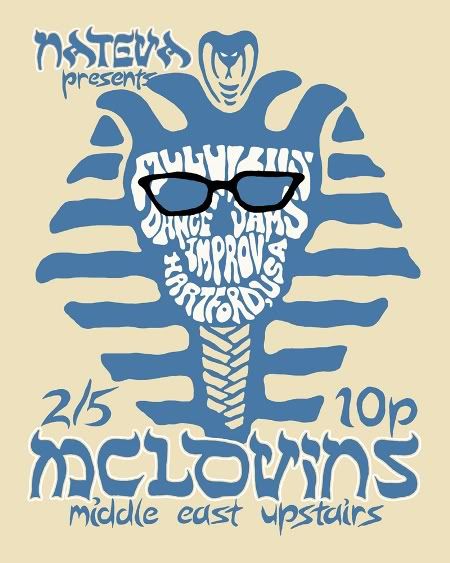 McLovins - Cohesive
I don't know much about this week's music profile band, the McLovins, but my friend Jeremy does. He's been periodically mentioning them to me for review and submission for the last 9 mos. He kept gently prodding about this young New England jam band that's been impressing people all over the east coast. The McLovins are teenage music prodigies Jake Huffman, Jeff Howard, and Jason Ott.

Teen Prodigies
I would never dismiss what my friends say, but I have a wealth of new music of note before me - even as I write this. Jam band just aren't normally my thing. But I am capable of appreciating it. (I grew up in Vermont. By the time I was 20 I had seen several Phish and a handful of Grateful Dead shows.) Even acts like My Morning Jacket wear thin on me sometimes. (For comparison, seeing Yim Yames - MMJ frontman Jim James' alter ego - perform with others at Newport Folk this past year was a treat. It made me realize how terribly talented he is in other areas, as well. But I digress. I hope you followed me: Jam bands aren't my thing, but if they are great - I would certainly celebrate them.)
And then the McLovins entered the picture.
The band, the subject of my friend Jeremy's praise, have earned the love and respect of a lot of people in the last year. Tens of Thousands of people, in fact. And not all those people necessarily like the band's music - but they do appreciate their technical ability, their art and their promise. Rolling Stone magazine just took a look at the kids and devoted online video space (live sessions to their act.) And just as I prepare to write about tonight's show,
the Boston Globe
took it's own look at the McLovins - who could be the best teenage Jam Band in the whole world. They play The Middle East in Cambridge tonight. (I know a lot of adult jam bands that can't say that.) Here's to Listening to Your Friends....