John McCauley and Ian O'Neil
McCauley of Deer Tick at Newport Folk 50 Day 2 in 2009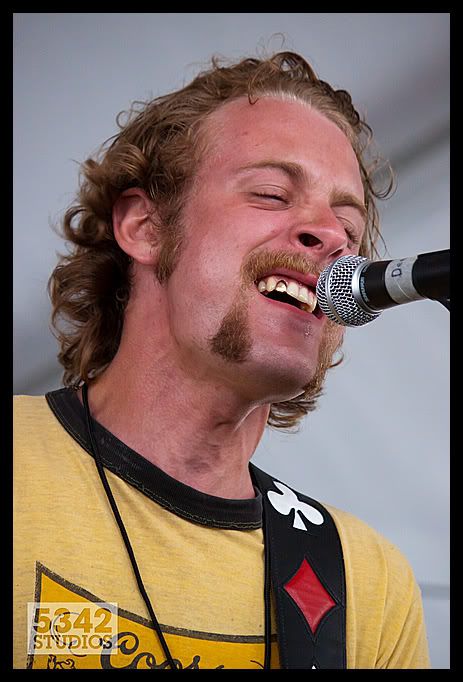 Deer Tick - Twenty Miles
THE SOUNDS OF OUR TIME -
Deer Tick's guitarist, vocalist and chief songwriter
John McCauley
sings less like a mid-20s indie rocker, and more like a 60-something folk troubador. The alt-country style of their music is well-suited to his gravelly vocals and the weary world view of an old soul. The loneliness, the regrets, the self-loathing... "Raindrops like bullets on my fragile skin; insecurities I've had, I keep them within." - 20 Miles. This is from their latest album, "The Black Dirt Sessions", which features guitarist
Ian O'Neil
(formerly of Titus Andronicus), who joined the band in the summer of 2008. While their recorded music tends to be thoughtful and introspective, their live shows are said to be wild affairs, with the warning posted on their site, "If you don't want to get covered in beer or confetti at one of our shows, I'd suggest not standing up in the front."
This being said, if you're looking for a chance to contemplate McCauley's intelligent songwriting in a more serene and intimate setting, this is definitely something you won't want to miss. The Middle East Upstairs is hosting the first of 8 shows where McCauley and O'Neil will perform acoustically in smaller venues, playing songs from their newest album as well as dipping further back into the Deer Tick catalog, cover songs, and selections from McCauley's other project,
Middle Brother
(formerly MG&V).
Supporting them will be their friends from Brooklyn, NY, The Shivers (with whom they share a split single, and have covered live). The Shivers are Keith Zarriello and Joanne Schornikow, purveyors of an appealing mix of lo-fi acoustic folk and fuzzy guitar/keyboard dissonance. Since 2001 and through four albums and extensive touring, they've had many stylistic changes - acoustic folk, rock, experimental, lounge, jazz - elements of which can be heard in their interesting sound.