6 EP albums in 6 months
Brendan Boogie presents....
Tonight - Live Pick of the Week: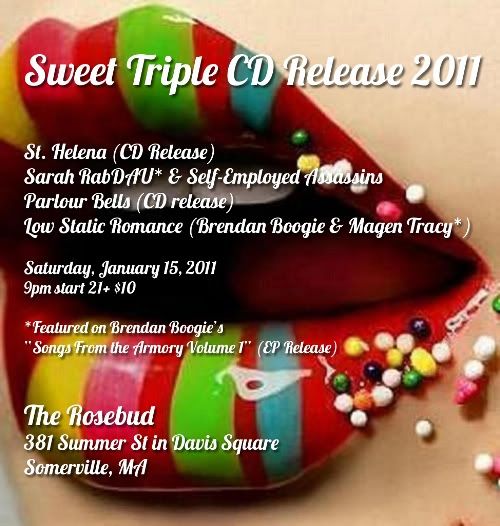 SOMEONE YOU NEED TO KNOW -
Brendan Boogie
is a big thinker. And most importantly, he is an executor of plans. The man behind
The Cover-Up
, Boogie knows how to throw a party. When someone else announces a live show, Boogie announces a residency. When someone ups the ante with a residency or string of shows of their own, the man decides to do the residency and produce a series of free EPs to share with fans - celebrating the scene. The popular singer-songwriter, and comedic advice writer for Boston Band Crush, is definitely someone you need to know in the Boston music scene.
Influential, Creative and Well-Liked -
Boogie brings a new twist to his quest for collaboration as he presents "Songs From The Armory Volumes 1 and 2," two EPs featuring songs co-written and performed with some of the Boston music scene's most talented artists. Volume 1 (available FREE for download for the month of January) features duets with Sarah RabDAU, Mike Mirabella (Scamper, The Rationales), Dan Nicklin (Old Jack), and Magen Tracy (St. Helena).
And then there's the good works of the folks around Mr. Boogie. Tonight's show (regardless of Boogie's creative touch) would be a winner. It speaks to the will of the artists who want to work with him. Boston's
St. Helena
release their sophomore album effort this evening. Can't wait to see what magic unfolds from these promising pop stars in 2011. (Seriously, St. Helena will be one to watch in 2011! I'll have more on this project later.)
Oh the memories.
Sarah Rabdau and Self-Employed Assassins
is more than just a mouthful. Started in 2006, the band formed by way of the internet with drummer Matt Graber looking for a project while abroad in Israel, and Boston based singer/songwriter Sarah Rabdau looking to put together a band in her hometown. 3 years later, the band put out a self-titled full-length record that highlighted their musical chemistry and passionate pop. This act is a star waiting to be found, as evidenced by their memorable Rock n Roll Rumble Semi-Finalist appearance in 2009. This act would alone be worth the price of admission!
Parlour Bells
is another act earning a lot of noise these days - I know the guys in the band (and like them a lot) I love their creativity and other projects - so I am damn sure this is going to be great. (I just haven't had the opportunity to listen much prior to this writeup.) Parlour Bells release their debut EP tonight. Another reason not to miss a damn thing.
Low Static Romance
is the creative singer/songwriter duo of
Brendan Boogie
and
Megan Tracy
of St. Helena. One of a dozen Boogie side projects, but perhaps one of those bearing the most creative fruit - Low Static Romance should not be missed. Expect some beautiful, emotive songs and a few laughs.
Tonight at The Rosebud - 9pm:
St. Helena (CD release)
Sarah RabDAU & Self-Employed Assassins
Parlour Bells (EP Release)
Low Static Romance
Brendan Boogie & Magen Tracy
NEXT SESSION
February 12th at the Rosebud:
Sidewalk Driver
Brendan Boogie & The Best Intentions
Oranjuly
Jason Dunn & Henry Beguiristain
1st time performing together
more on

The Rosebud


381 Summer St - Somerville