PJ Harvey - The Last Living Rose
from Let England Shake
by Nick Parker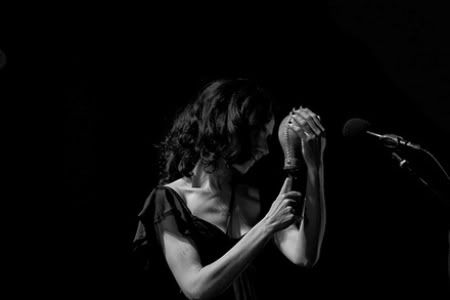 PJ Harvey
photos by Laura Musselman
SPOKEN LIKE A TRUE FAN -
I have been on what feels like a long and emotional road with the last few releases by
PJ Harvey
. There have been euphoric highs, as I felt when I heard 2007's simply phenomenal White Chalk (as I've written here before, probably my favorite album of that decade). Then there was the darkly addictive Letterman performance of the first single from 2009's
A Woman a Man Walked By
, "Black Hearted Love," which hinted of the chance for that most rare occurrence: two classic albums in a row. How bitter the pill then, when that album, Harvey's second with John Parish,
fell so flat
.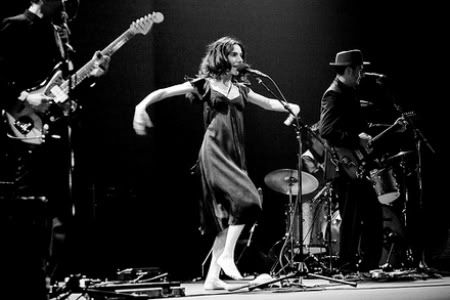 PJ Harvey with John Parish
The reason the double-masterpiece idea is so hard to pull off, of course, is that the standard of the first ace sets you for a dramatic swan dive into mediocrity with the follow-up. Many of the tracks off the Harvey-Parish collaboration were clumsy and – dare I say from sure a master of industrial sounds – actually grating. So now the unpleasant question has arisen for me: Was the last album the start of the end of the great PJ Harvey?
Lyrics for
The Last Living Rose

Goddam' Europeans!
Take me back to England
& the grey, damp filthiness of ages,
fog rolling down behind the mountains,
& on the graveyards, and dead sea-captains.
Let me walk through the stinking alleys
to the music of drunken beatings,
past the Thames River, glistening like gold
hastily sold for nothing.
Let me watch night fall on the river,
the moon rise up and turn to silver,
the sky move,
the ocean shimmer,
the hedge shake,
the last living rose quiver.

ENGLISH BLOOD - Now we have the chance to hear the first hint of Polly's next release, an album about her home country. It's my home country, too. But having this in common hardly means Harvey gets a free pass with this project. Quite the reverse in fact – if Harvey wants to produce an album about England, the stakes are high for me, both in terms of the very complex thing she is about to try to represent, and the ambivalence I feel I want to hear in her music about it. I need to hear not merely a two-dimensional celebration of why she thinks England is great, but that truly mixed-up intoxication of loving something of which you can only see a tiny part, of feeling bored of a familiar place, but never being able to entirely desert it either, of hating a place only on the basis of your own warped perspective on it, etc. etc. etc.
release date:
Feb 14, 2011
Then again, if anyone can pull such a massive project off, it's the Harvey I have come to love so much over the last ten years. Hopefully, it's not the Harvey that appeared last year. This first video is set to images and footage captured by
Seamus Murphy
. Watching it, I'm hopeful still, in Harvey massive talent. I am willing that she has made something really beautiful with this album.