The Joy Formidable at Great Scott
Photographic Evidence
by Mark Jenko
Live Impressions
by Nick Parker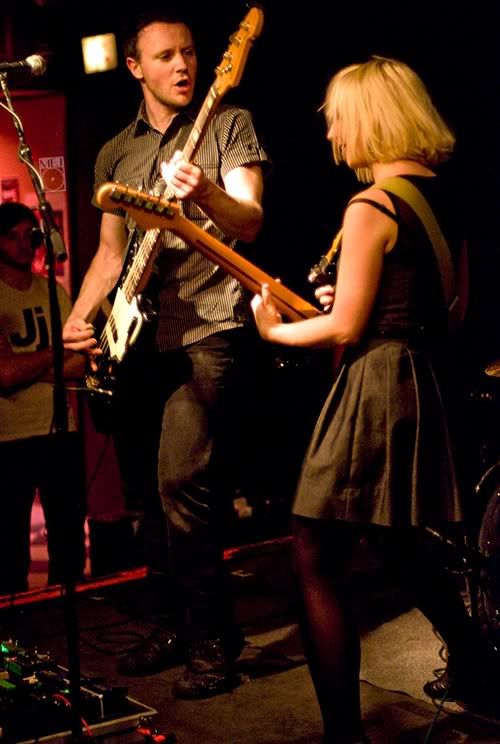 Live at Great Scott - Boston, MA - Nov 14, 2010
The Joy Formidable - Cradle
Over the last few months,
The Joy Formidable
have performed a sneak attack on my musical consciousness. It began perhaps with the ridiculously prolonged wait I had to get hold of their EP A Balloon Called Moaning (which came out in the US a year after the European release). The hold up made me feel more than usually disconnected from the UK music scene, in a year when I discovered a series of other great bands late (my favorite album of 'this year' for example, is actually last year's Harum Scarum, by the fantastic
Joe Gideon and the Shark
). Anticipation definitely had a positive effect when I finally got my hands on A Balloon. Still, the EP has stuck with me for months now - the mere wait doesn't explain why I like this band so much.
I went to
Great Scott
recently to see them for the first time, on a mission to explain why (just) another three-piece guitar band have got so under my skin. Great Scott was the perfect venue to explore my obsession. They came out from the back room, just as they had been wandering around the front of house a little earlier, without pretense, without mystery, like three quite ordinary mates who happen to fuse into one big mass of sound when they pick up their instruments.
As soon as they began I noticed how unlike a three-piece they actually sound. They have managed to create something truly orchestral from just a small(ish) drum kit, a bass, a guitar and Ritzy Bryan's tiny voice. It was easy to see the connection, as Bryan conducted the songs with one hand as she sang.
RSL Streaming Photo Album
The Joy Formidable in Boston - 11/14/10
Like this contradiction of scale, the songs also danced, literally and otherwise, a fine line between the two poles of polished performance and personal connection. Bryan kept up a frenzied stare right at the audience through much of the set, and the whole band moved around the tiny stage like they were holding back a full-scale riot of movement. On the other hand the songs never descended into cacophony for more than a few seconds before bassist Rhydian Dafydd pulled them back onto a tightly formed course which meant they ended each song with a sudden cut, rather than a extended mess. Bryan also sang with some obvious training (pulling away from the mic at moments of highest projection for example), so it isn't fair to call The Joy Formidable only a punk guitar band, even if they are loud enough.
And, though it seemed the crowd were really impressed by this strange mix of massive and yet personal, professional and yet edgy, the band's gratitude for the applause between songs was very genuine and showed a little wonderment from band towards audience. So, rather jaded by years of being repeatedly underwhelmed by the supposed 'next big thing,' I wonder if this is what's coming over the horizon.