Wolf Parade wrap album tour
Is this the End of the Band?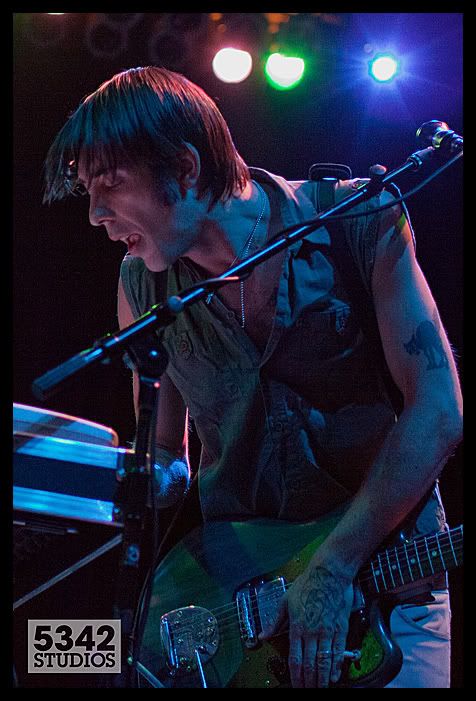 Dan Boeckner of Wolf Parade and Handsome Furs
THE BEST BAND IN CANADA STEPS AWAY
Just months after I announced to the world that Wolf Parade are probably my
favorite contemporary act
, the band is no more... at least in any cognitive sense right now. Just hours after the band left the stage on the scheduled album tour wrap in Toronto on 11/26 - the members announced they were taking an "indefinite hiatus." As reported by
Spinner
, keyboardist Spencer Krug (also of Sunset Rubdown and Swan Lake) told the audience from stage in Toronto; "This will be our last show for a long time." Such news is not entirely surprising. The band is wickedly talented and sometimes artistry comes at a cost. The talented members each have their own
side projects
. And the word leaked out at the end of a long tour. Let's hope that this isn't a forever thing.
I am of the mind that it's not how many albums you make, it's how many exceptional records and songs you release. Qualitatively, this band is hard to beat. In solid news, Boeckner who is a founding member of
Handsome Furs
(with his charming wife Alexei) will be working on a new album in January with Arlen (a drummer and a celebrated Canadian producer) in his studio, Mt Zoomer. More when we have it, but don't anticipate a lengthy wait on the Handsome Furs sessions. Those two are always animated and synched-up. I expect them to jam it out and then head on the road! As one already asked, "What can this mean for Spencer Krug's Sunset Rubdown?"
(Jian Ghomeshi CBC podcast on 11/26/10)