I Recommend: The Autumn Defense
The Autumn Defense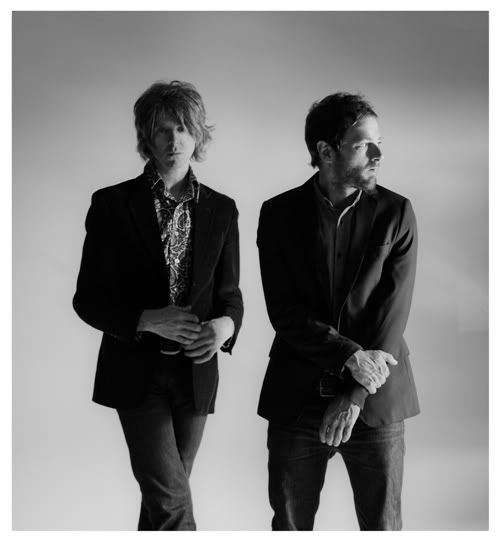 The Autumn Defense - Back of My Mind
Meet The AUTUMN DEFENSE -
Wilco's
John Stirratt
and
Patrick Sansone
have played the world's stages and have shared those sacred spaces with some of the world's best contemporary musicians. A whole generation of of modern contemporary music artists who some of their mystique (if not their sound) to the near self-actualized band lead by Jeff Tweedy. And in recent years it has become clear that Wilco is more than Tweedy and more than the band. It's a widening circle - a community of fans, musicians and artists (clearly witnessed by these eyes at this summer's stellar Solid Sound Music Festival.) So should it surprise anyone that a new music project staring two of Wilco's own should be anything other than great?

RELATIONSHIPS with Your Music -
For weeks, The Autumn Defense's perfect, golden pop, solid and connecting lyrics and see-saw harmonies have been celebrated on my daily commute - between bouts of NPR radio and frantic escape maneuvers on Boston roads... Well now you can be a part of the album and be possessed by it as well.
Once Around
is in stores and available online now. It's a trip well worth taking as the golden embers rising up from the feet of these metaphorical fires can light up the darkest of nights. All that's missing is a glass of red wine and a worthwhile daydream.
TOURING SCHEDULE -
As I write this
The Autumn Defense (who just toured the EU with Wilco) find themselves heading south out of Canada - headed for Boston. (They played Toronto last night.)
Here are the latest shows - which include a very special performance tomorrow 11/11/10 at
Great Scott
in Allston sponsored by Fenway Recordings.
11/11/2010 Great Scott
Allston, MA



11/12/2010 Le Poisson Rouge

New York NY

11/13/2010 Tin Angel

Philadelphia PA

11/15/2010 IOTA Club and Cafe

Arlington VA

11/16/2010 The Casbah

Durham NC

11/17/2010 Eddie's Attic

Decatur GA

11/18/2010 The Basement

Nashville TN

11/20/2010 Lincoln Hall

Chicago IL