Rick Berlin - Paper Airplane
the wily
Rick Berlin
wins big on
Paper Airplane
Record Release - Sat 10/16 at the Lizard Lounge
Artist of the Month -
Rick Berlin's Paper Airplane
(October 16 on HI-N-DRY) is somehow both sandpaper gritty and soothing as rain - and if I said nothing more about it, that might be enough. Textured and rolling, the self-effacing songwriter urges us to rumble along with him on his witty telling through significant memories and clever stories. Where Berlin ends and the song begins isn't always clear (just listen) and much of that is how artfully he uses voice and character to populate the lyrics of his songs. In each example, Berlin half-speaks and then half-sings above percussion, piano, guitar and brass. The piano keys sound like stairs and we can almost hear the wooden stools the musicians sat on as they are dragged along dusty floors. Berlin's telling is more lucid, more punctuated, more dark, more fun, than anything you could have been expecting. It's unpredictable and just brilliant.
Especially recommended for fans of:
Tom Waits, T Bone Burnett, Warren Zevon and Roger Waters...
a BEST OF 2010 ALBUM PICK: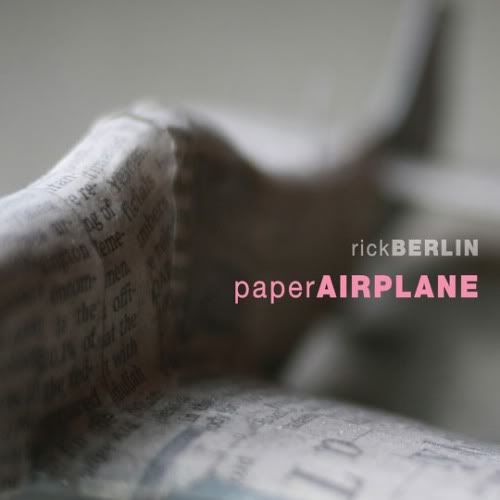 Rick Berlin sampler
by rslblog.com
Paper Airplane's 13 chapters are just sneaky good - and they grow on you.
It wasn't until my third time through the record (on day one) that I realized I had burned a good part of weekend away. And it didn't upset me one bit, for I had discovered one of my favorite US albums for 2010… A year that has been noticeably void of tangible, textural – real music. And there is no doubt that this work is the best to date from
the unique
Berlin. Do yourself a favor and pick up Paper Airplanes - an unexpected treasure and unquestionably (I will call it right now) one of the very best records released regionally to date this year in New England…