Matador 21 Day Two
Writing from Las Vegas, NV
Oh happy day!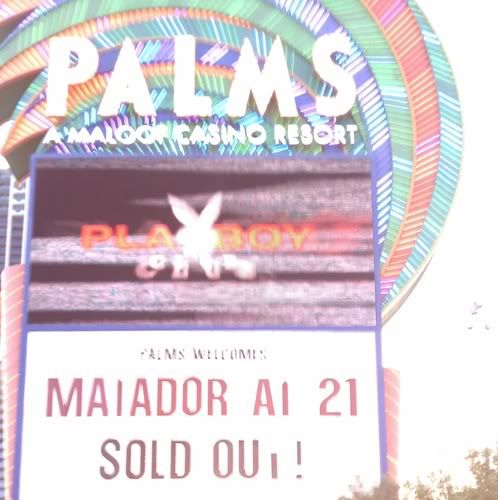 The Palms finally replaced the DJ Pauly D / Jersey Shore sign
with a busted looking "MATADOR AT 21 – SOLD OUT" marquee.
Last week I wrote to my dear friend Nev Brown, music photographer and man behind the site Fiddle While You Burn, regarding
Jon Spencer Blues Explosion
. Nev, sadly, is saving his shekels (as my mother would say) for SXSW and has a family to feed, so he could not make this festival. I was kinda bummed – he's a great show buddy.
I said to him of JSBX "They sure don't make music like they used to, like the used to…if you know what I mean". And by "what I mean" I MEANT how any 60s Brit Invasion band would sound now if they just became dually enamored with old soul, southern rock (and punk). If your band is only going to be comprised of two guitars and a drum kit, the kick sound is vital and JSBXs is vital and mean.
The Blues Explosion launch into their signature series of self-referential dirty blues songs with Spencer throwing himself at the microphone, sounding like Elvis and James Brown come back to life in the body of a wayward evangelical preacher. These guys have the art of the set list down pat, a steady build that gets more nasty and hysterical with each song. During the end of the set Spencer launches his microphone stand into the air, the international sign for "hey GUYS, my EFFING mic's dead", though at first glance I could have chalked the toss up to general Jon Spencer on-stage antics. This man had no problem asserting himself. He also plays a mean theremin.
Jon Spencer Blues Explosion
After breaking for a spicy Mexican dinner we re-enter the venue and while perusing the two record stores set up next to the merch table we chat with some nice dudes from Origami Records in LA. We talk about about how we're all going to make it through the rest of the weekend without having a mental breakdown from sensory overload, they suggest coffee. They are excited for
Esben and the Witch
, heck, everyone is excited for Esben and the Witch, you see
there are no secret favorites
–
this crowd consumes so much music knowledge at terabytes a second
…tweeting the first note into a song their thoughts to #matador21, the hash tag is speeding along at hundreds of posts a minute. From the nosebleeds you can see the ominous glow of our future as everyone's phone flickers with tweets or quickly captured stage shots.
I feel like I'm sinning against my gender by not catching the
Cat Power
set so were back to the nosebleeds watching the phones light up as Cat Power croons and glides around the stage in her socks. The blood sugar kick and Cat's break-up mix vocals make for a lucid respite from so much rock. Her band forms a U around her as she slowly waltzes back and forth between them – a very intimate setting for her and the band and incredibly engaging.
My husband Dave saw
Superchunk
alone as I was literally in our rental car trying to catch 30 minutes of much needed sleep. Ok so Dave's Superchunk rundown:
"You could just say something like, "they brought the rock, the audience was in a pogo frenzy". They genuinely held their own against their noisier Matador brethren".
I trust he knows what he's talking about, so there you have it.
Spoon
has an impossibly complicated set up of three islands of equipment and Christmas lights that takes forever to set up, if I remember hearing about it correctly – this is the same deal they've had all tour. The sound engineers keep the house mix on the whole sound check and it makes for some increasingly frustrated aging hipster ex-sound guys…one dares to scream "TURN OFF THE HOUSE MIX!!!" but they don't.
Spoon have a baffling stage configuration
and play an effortless professional sounding set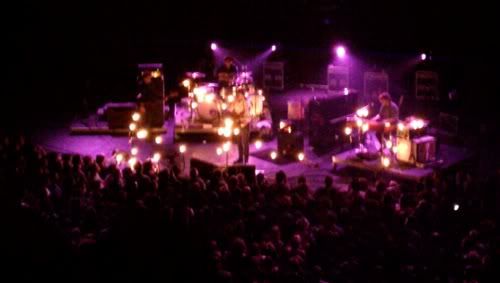 So yeah, Spoon has been on tour for a few months now, and they are very well rehearsed, almost like they could do this their sleep well rehearsed… Which you know, is good and bad. I wouldn't be the first to suggest they are an album band.

They do however dedicate a song to the late Jay Reatard, his own "No Time" and it proves to be, along with "Car Radio" and "Jonathon Fisk" one of the more inspired songs of their set.
SATURDAY LINEUP:
Belle & Sebastian: 11:45pm - 1:00am
Spoon: 10:25pm - 11:15pm
Superchunk: 9:20pm - 10:00pm
Cat Power: 8:15pm - 8:55pm
Perfume Genus: 7:55pm - 8:15pm
The Jon Spencer Blues Explosion: 6:50pm - 7:30pm
Come: 5:45pm - 6:25pm
Girls: 4:40pm - 5:20pm
We move down to the floor again just as
Bob Nastanovich
, very drunk, in lieu of an "acceptable" intro, earnestly thanks everyone for coming, touched by the Reatards shout out he mentions a few Matadorians who are no longer with us, and subsequently gives his home address (no I don't remember it). As funny as this is it's a reminder that this set of shows really are a celebration not only for the fans but for the bands, and the lot of them are playing their heart out out of gratitude, and that is hugely reinforced with Bob's short drunken ramble – Belle and Sebastian, he announces, he happens to like, and boy-howdy so do I.
Ok yesterday I said the musicians on this label could be defined as self destructive, this of course goes without saying with the huge exception of
Stuart Murdoch
of
Belle and Sebastian
, you sweetie! Although a genre defying music god, his life surely has been a solid string of pensive bus rides, kitten hugs and song writing - I so want to catch him chatting up a dealer at the Playboy club and smash that image. He has however obviously been working out and looks good enough to convince one of the 40 something jokey Clevelanders we met on the floor to consider "switching sides".
I actually woke up way too early this morning and emailed the band asking them to stay rested and hydrated on tour, and also asked nicely to consider playing "this Is Just a Modern Rock Song" if it wasn't terribly a bother. You can make these types of requests of B&S, seriously, their videos on the Fans Only DVD are largely fan submitted from the sinister mailing list, they are that cool of a band. I have seen hardened hearts come away from a Belle and Sebastian show begging to be adopted by the band.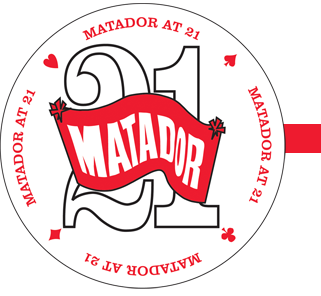 They play some new stuff, they play some old stuff, Stuart is quirky and charming with quick wit and a disarming smile. They invite five or six audience members onto the stage to dance to "There's Too Much Love" which makes me tear up and their performance is rewarded with actual medals and hugs from the band. When the dancers exit the stage the audience congratulates them as they make their way back to their spots on the floor.

Though Stuart and Stevie make jokes about being less rock than the people who run the label, by the time they get around to "Sleep The Clock Around" I fear dancing too hard, I mean, I still have to make it up three flights of stairs and to the car, which is a Herculean feat after the day. Around 2am they are allowed one "fast" encore by the powers that be, and play the up-tempo "Me and the Major".

If you're wondering, no, "This is Just a Modern Rock Song" wasn't played but I'm not hurt in the least... And there you have day 2, stayed tuned for the recap of what happens this evening – I don't even know what to expect – if they let B&S go until 2am…what are the odds I'll get out of the Pearl in time to catch an 11am flight on Monday?
SUNDAY, OCTOBER 3rd
Guided By Voices: 11:30pm - 1:00am
Yo La Tengo: 10:10pm - 11:05pm
Liz Phair: 9:50pm - 10:10pm
The New Pornographers: 8:40pm - 9:25pm
Ted Leo: 7:35pm - 8:15pm
Shearwater: 6:30pm - 7:10pm