Matador 21 Day One
Writing from Las Vegas, NV
Want know why all of you favorite bands are on tour right now? No, it's not that our lost generation of Xers won the metaphysical music lottery, nor is it because all of that finger crossing finally paid off. It's because of one great label, nay, one great man,
Gerard Cosloy
decided get the whole freaking label back together. Though perhaps not the bastion of etiquette addressing fans and supporters in early planning days of
Matador at 21
(who're you calling whiners Gerard?), he is one to be revered in years and centuries to come for amassing such a collection of raw awesome.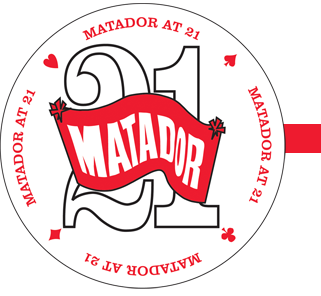 And I hope most of y'all have already seen your Matador darlings at ((insert home city here)) because, what Gerard and the Matador team has perhaps knowingly done is poured the kerosene of everything-will-go-despite-your-best-intentions Las Vegas on a bunch of powerfully creative and historically self destructive genre defying music gods. Well Gerard and Matador, it's a good thing we fans are gluttonous pyromaniacs. Though a bit longer in the tooth than your run of the mill 20 something scenesters scattered across America's landscape, we Xers can still kick ass, rock out and take names…well, at least for as long as we have the sitter booked.
Last Night at The Palms in Las Vegas
We roll into
The Palms
, which inexplicably believes an appearance by a Jersey Shore cast member is a more momentous occasion than this festival, to collect our wristbands, we (husband Dave and I) are filled with unadulterated joy as Yo La Tengo's "Autumn Sweater" plays over the Casino's muzak. Scattered around the casino floor are my people, my 30 to 40 year old moderately well groomed dudes in jeans and appropriate concert t-shirts. Also as I gathered from following the #matador21 tag on Twitter, there are industry people, Very. well. Respected. Industry people. In fact rival (grr!, kidding!) Boston music blogger Brad Searles was seated 7 rows back on our flight in. This show is so so serious and the energy of the casino is that of a 1991 Pixies in-store. The place is humming with joy, and yes, also the din of slot machines. We collect our wristbands, swag bags (limited edition 12 inch single!), meet some really incredibly friendly Canadians and park ourselves in the 300 section.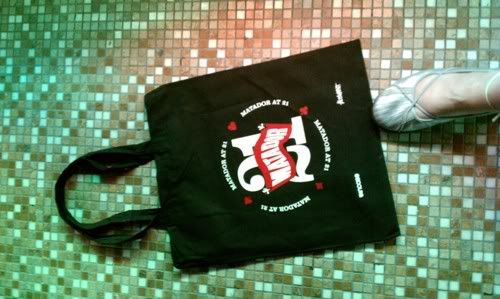 We arrive just in time for Chavez. Frankly, my husband is the one who loves Chavez. But I have to admit after their showing they, as Dave, would put it "they really don't suck." Their fullsound is absolutely knock-out monstrous. As I had noted on twitter they basically gave every local "guitar driven rock band" notes. Solid set very tight, clean, a little poppy and dare I say pretty? I guess their box set will be in rotation a little more frequently in the Katzen-Berndt home.

A weird Jeff Jensen "comedy" segue in which they invited a Canadian (what's with all of the Canadians?) onto the stage and asked him to name a Canadian band for every letter of the alphabet, he managed to do it...get this, without even naming Rush. I do believe he named Fucked Up, who also get this...are from Toronto.

Fucked-Up feels so out of place, don't get me wrong, they do what they do very well, namely sweaty shirtless guys wearing shorts screaming dissonant fast punk and holding their infant children on stage, which was very very loud...I hope they make baby earplugs. The rest of the band reminded Dave a little bit of South Park's "Lords of the Underworld" in both their function and appearance.
Sonic Youth, Okay, my blood pressure just rose in thinking about this set 5 hours later after very little sleep, and frankly that worries and enthralls me. I had to get the puffs plus portable pack out for the set it was GLORIOUS. Dave always never "got" SY and I just never understood why but after the set he turned to me and said "Okay, I get it, furthermore how would you ever translate that to a record?".
Let's not kid ourselves, the reason 80% of the bands, and therefore attendees, are crammed into this concrete hole in the tinseled out desert is because of these guys. I cannot believe these guys have been doing what they have been doing for this long and are as "old" as they are...I can barely stand in the morning from sciatica pain and I'm only 33. Sonic Youth just have this kin blood that must flow through them as it seems all of the members breathing is in sync during their set. They play three songs off of my favorite album, Sister, including schizophrenia, which blows my mind so hard that I end up listening to most of the set with my fists clenched into tight little balls near my temples, I just cannot believe how unbelievably wonderful and intense their live sound is, I literally start to tear up, it's almost too much, it's... for the lack of anything else to say... raw honest emotion. Kim Gordon is still the sexiest rock bitch that ever was, strutting with those perfect legs in tight gold lame breathing and purring heavily into the mic. Thurston Moore writhes and slithers across stage on his stomach pushing his guitar in front of him, playing as he does with the feedback... his front half is immersed in the crowd and he is being petted and patted as if he were some modern second coming. I can feel every hair on my body move to each riff, each beat, the sound is just that ENORMOUS, I feel like the 22 year old music junkie I used to be, whose favorite place was right in front of the speakers at some long lost and forgotten dive. The energy between the audience and the band is palpable, almost sexual, we are being exhausted...yet still want more. I wrote 10 pages of furiously scrolled notes in my moleskine and really all I can make out is SOUND, SOUND, SOUND!, sometimes underlined, sometimes underlined twice, as if I had no other words to explain it. and by the end of the set I am screaming along to Death Valley 69 exhausted...spent, and I feel bad that Pavement had to follow them.
FRIDAY LINEUP
Pavement: 12:00am - 1:00am
Sonic Youth: 10:40pm - 11:30pm
Fucked Up: 9:35pm - 10:15pm
Chavez: 8:30pm - 9:10pm
Chavez: 8:30pm - 9:10pm
Guitar Wolf: 7:30pm - 8:10pm
SATURDAY LINEUP:
Belle & Sebastian: 11:45pm - 1:00am
Spoon: 10:25pm - 11:15pm
Superchunk: 9:20pm - 10:00pm
Cat Power: 8:15pm - 8:55pm
Perfume Genus: 7:55pm - 8:15pm
The Jon Spencer Blues Explosion: 6:50pm - 7:30pm
Come: 5:45pm - 6:25pm
Girls: 4:40pm - 5:20pm
Pavement, pavement, pavement. Pavement was *good* but Pavement is obviously mad at each other, I can't lie...it's like being in a room with your parents after they got into an argument. There are some drum kit issues, and Bob Nastanovich and Steven Malkmus try to make the best of the equipment delay by playing slide whistle and synth solos... They hurry through a few fan favorites which sound good...and I'm happy to hear and bounce along to them but at one point, after
Elevate Me Later
, Bob runs to the front of the stage grabs the mic and primaly screams...and I don't think it's part of the act. They are a really talented and creative force when they were on Matador in the 90s and will always be appreciated what they brought to that era of music. At this point however it really seems like they want to retire from the stage as much as we want to retire to the hotel.
And so we do. I think I need a therapist, a cocktail of downers and a day at the spa before we venture out for tonight.