The Henry Clay People at TT the Bears
The inimitable
Henry Clay People
began their set so casually, I wondered if maybe they were just checking out the sound first. Brothers Joey and Andy quietly launched into a guitar duet, the others then joining them as they glided effortlessly into "End Of An Empire". From there, it very quickly became a celebration for the small but greatly appreciative crowd (I'd say an informal gathering rather than a crowd). It was unfortunate that more people weren't there to witness the Henry Clays' first headlining gig in Boston, but hopefully as word spreads what a terrific band they are, this won't be the case for much longer.
This may be their finest lineup (no disrespect at all to Mike, their former drummer, who was also wonderful). Now with them for perhaps a year, Eric has nimbly taken over on drumming duties, sounding like he's been there forever, a perfect match of styles with his full-on exuberance. Jonathan holds down the fort heroically on bass, with elegance and serenity, while the Siara boys careen around in that delightful'happy shambles' way of theirs. Andy let loose with some serious guitar licks (man, he is *really* good), with Joey on rhythm guitar and his warm, endearing vocals and engaging stage banter. And Jordan brings the party whenever he unleashes his honky-tonk piano fury - as much fun to watch as he is to listen to.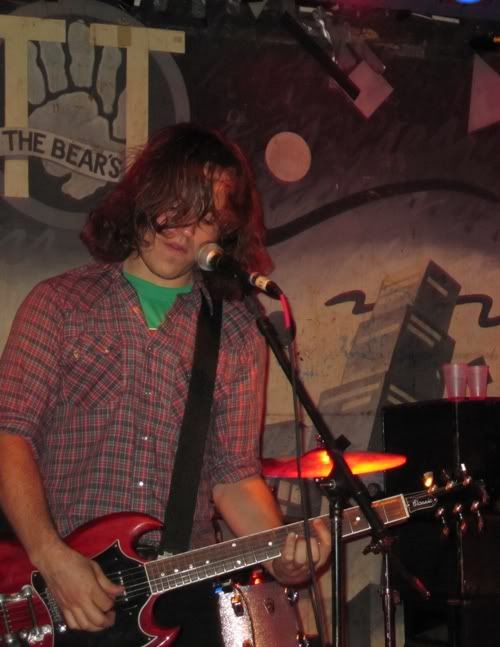 They treated us to a new song of which everyone heartily approved, and included such crowd pleasers as "Rock & Roll Has Lost Its Teeth", "This Ain't A Scene", and "Working Part Time". An audience vote decided that they would do a cover of Operation Ivy's "Knowledge" (a longtime HCP favorite - "All I know is I don't know nothin'"), and following breathlessly on its heels, "The Switch Kids" - their loving tribute to fellow Silverlake, Los Angeles band Le Switch.

These guys always impress me with their overflowing warmth, enthusiasm and obvious delight in performing, regardless of how many are in the audience to appreciate them.

Setlist:
(unknown "duet") | End Of An Empire | Slow Burn | Rock & Roll Has Lost Its Teeth | This Ain't A Scene | You Can Be Timeless | (new song) | Saturday Night | Knowledge (Operation Ivy) | The Switch Kids | Working Part Time | Born To Run (Bruce Springsteen)
Cambridge-based
Wildfowl
have a friendly, low-key vibe; melodic, rather quirky and charming sounding indie rock. It took them a little while to get going at TT's, not helped by "opening band syndrome" and a low turnout. Things really picked up at the end of their set, and I'll definitely have to catch these guys again, perhaps in a place with a little less amplification, as their music has some subtle nuances that were unfortunately to a great extent lost this evening. They'll be at the Church of Boston with Holiday Mountain and Ellis Ashbrook on December 10.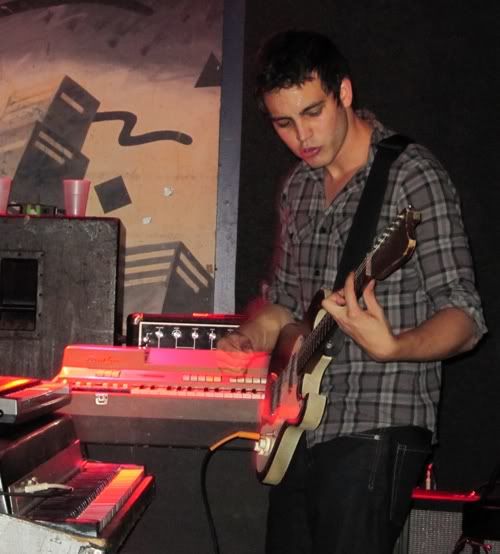 The Dig - Penitentiary
The Dig's Erick Eiser
The Dig
have considerable talents, and got into some serious time-suspending jamming midway through their set, sounding better and better with each song. Emile Mosseri (bass) and David Baldwin (guitar) share vocal duties, Erick Eiser switches from keyboards to guitar, and Jamie Alegre keeps a very tight groove going on drums. Sophisticated in their sound and musical sensibility, they had the biggest audience of the evening; clearly most folks had come out just to see them. They're moving their way West with The Henry Clays, and then starting November 3, will be on tour with The Joy Formidable (stopping at Great Scott in Allston on November 13). Their full-length debut, Electric Toys, is available on iTunes and Amazon.
[Note to T.T.'s sound person - it really isn't necessary to crank things up to 11 in such a small space for 20-30 people. Trust me, these bands would have sounded just as marvelous (in fact, more so) at a slightly less overwhelming volume... Just sayin'.]
Upcoming The Henry Clay People / The Dig Shows
Oct 26 2010 - Doug Fir Lounge - Portland, OR
Oct 28 2010 - Bottom Of The Hill - San Francisco, CA
Oct 29 2010 - Echo and Echoplex - Los Angeles, CA