What Cheer? Brigade
Boston photo exhibit:
5342 Studios presents.....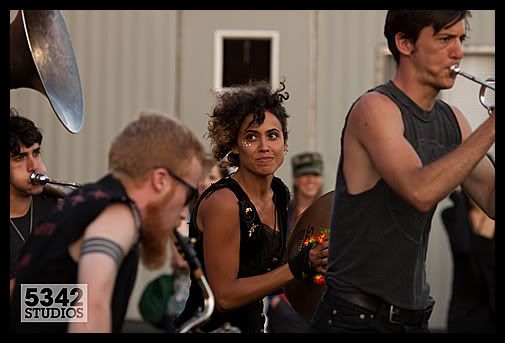 What Cheer?
KEY MOMENTS IN MUSIC HISTORY - I think most would probably agree that Newport Folk has earned it's permanent place in History some time ago with the efforts of previous generations of performers. In 2010, Festival Organizers took Newport into an exciting new direction. They did these by taking more chances of promising acts that challenge the paradigms and descriptions of stodgy purists. In doing so they offered opportunities to bands very similar in many regards to the earliest musicians to grace the stages and opened thousands of minds in the process. It's a tough sell that you stay the same by changing with the times, but that's the spirit at Newport and it always has.
Improbably, a scrappy brass street band from
Providence
called
What Cheer?
may have proved to be the biggest winner of all this year at Newport - they were certainly the most daring, wild and energetic thing we've seen in music in a long, long time. This is the story of one photographer's journey to capture What Cheer? at Newport.
[Editor's Note: What Cheer?'s story at Newport includes pulling off the strongest Saturday finish in the festival's history. An hour-plus jam that began inside the confines of Adams State Park and meandered - audience in-tow, out into the parking lot. There were people of all ages; dancing, singing and smiling at the beautiful, mayhem unfolding. This immense sendoff on Saturday came only after playing for audiences all over the grounds! Somehow the bands managed to lave just enough energy in the tank to play solid shows on Sunday. By then, people were seeking out What Cheer? based on their pop-up shows the day before. The rumors were true. Legendary stuff.]
What Cheer? mingles with Fans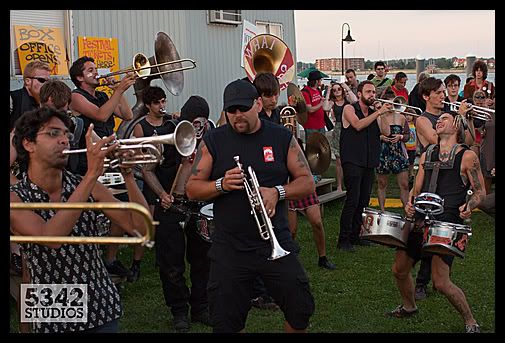 In addition to playing some of the wildest marches and improvised jams around, we had to marvel at the athleticism and endurance of all of the What Cheer? Brigade. There are something between 13-16 members as near as I can tell. It's hard to be sure, honestly, with all the movement, clanging and peeking out from behind things. It really was one of the most memorable performances of my life. This is nothing new to some folks. Longtime collaborators with Austin's Okkervil.... The secret is out now in a very big way.
RSL STREAMING PHOTO ALBUM
What Cheer Brigade at Newport Folk Festival 51
What Cheer? played vitality-bringing pop-up gigs all over Newport this year. They were, to my knowledge, the only act to appear on multiple days and they tied the entire weekend together by walking into crowds and into audiences' hearts. The biggest story of Newport this year is One You Need to Watch!