School of Seven Bells
Free Download - New Video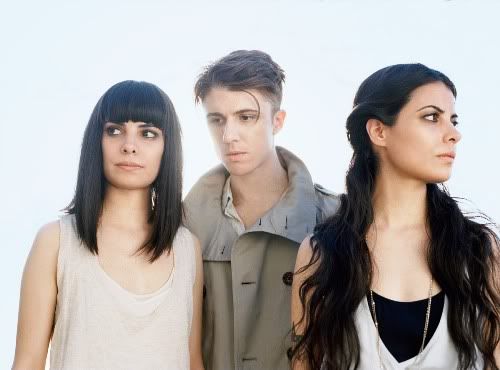 School of Seven Bells - I L U (Phantogram Remix)
Abbey Drucker photo
Gearing up for their tour in support of their exciting new album,
Disconnect from Desire
,
School of Seven Bells
were at Los Angeles-based public radio station
KCRW
this week. KCRW is one of the most respected and progressive radio stations in the world, the perfect place for School of Seven Bells to show their stuff... Sleepy, ethereal music powered by an air of self-discovery. As for this performance. the voice is beautiful and the guitar, rich.
9/9 - Brooklyn Bowl - Brooklyn, NY
9/11 - Middle East Downstairs - Cambridge, MA
9/12 - Club Metronome - Burlington, VT
9/13 - La Sala Rossa - Montreal, QC
9/15 - Mod Club Theatre - Toronto, ON
9/16 - Blind Pig - Ann Arbor, MI
9/17 - Lincoln Hall - Chicago, IL
9/18 - Majestic Theatre - Madison, WI
9/19 - 7th St. Entry - Minneapolis, MN
9/20 - Blue Moose Tap House - Iowa CIty, IA
9/21 - Waiting Room - Omaha, NE
9/23/2010 Record Bar - Kansas City, MO
9/24/2010 Larimer Lounge - Denver, CO
9/25/2010 Urban Lounge - Salt Lake City, UT
9/27/2010 Neumos - Seattle, WA
9/28/2010 Biltmore Cabaret - Vancouver, BC
9/29/2010 Doug Fir Lounge - Portland, OR
9/30/2010 Independent - San Francisco, CA
10/1/2010 Echoplex - Los Angeles, CA
10/2 - Detroit Bar - Costa Mesa, CA
10/3 - The Loft - San Diego, CA
10/5 - Plush - Tucson, AZ
10/6 - Launchpad - Albuquerque, NM
10/8 - Hailey's - Denton, TX
10/9 - Mohawk - Austin, TX
10/10 - Warehouse Live - Houston, TX
10/11 - Spanish Moon - Baton Rouge, LA
10/12 - Club Downunder - Tallahasse, FL
10/14 - Crowbar - Tampa, FL
10/15 - The Social - Orlando, FL
10/16 -Grand Central - Miami, FL
10/18 - The Earl - Atlanta, GA
10/19 - Local 506 - Chapel Hill, NC
10/20 - Ottobar - Baltimore, MD
10/21 - Rock and Roll Hotel - Washington, DC
10/22 - Johnny Brenda's - Philadelphia, PA
10/23 - Santos Party House - New York, NY