Iggy and the Stooges ignite Boston!
As I stood in quiet awe in the emptying House of Blues sweat-soaked afterglow,
Iggy and the Stooges
having pummeled us senseless, the thought occurred to me: every punk band in the world should just hang it up and find day jobs, because they'll never hope to achieve that level of elegance and ferocity.
They are masters at their art. From the relentless pounding heartbeat of
Scott Asheton's
druming fury, to
James Williamson's
mind-melting guitar voyages.
Steve Mackay
on bluesy/jazzy sax, moving their sound out into hypnotic and entrancing realms, and
Mike Watt
– the newest Stooge, but with his own considerable stature as a member of the esteemed Minutemen – not only providing that solar plexus punch on bass, but pausing here and there for a distortion-producing sensuous dance with his amp; so obvious was his visceral pleasure, it was almost a little embarrassing to watch him. And
Iggy Pop
, ah... Iggy. The ultimate whirling dervish; the consummate showman. Yelling, shrieking, then dropping it down to a sexy and dangerous croon. He's all over the stage, all over the audience, showing off that impossible 63-going-on-30 physique with his own unique crazy dance. It's
impossible
to take your eyes off him.
We Take You to the Front Row:
Iggy Pop at the House of Blues Boston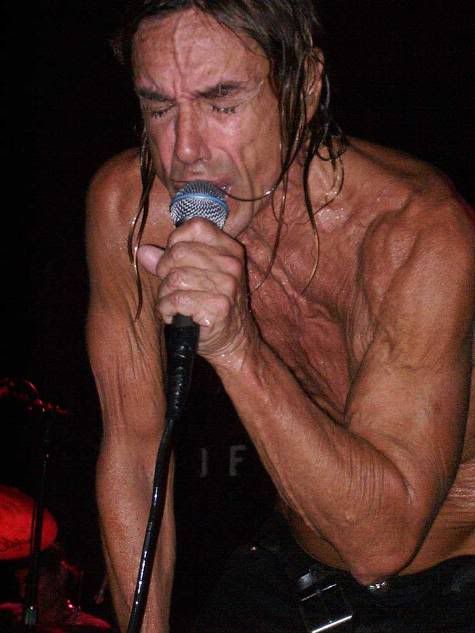 I Wanna Be Your Dog by Iggy and the Stooges
Julie Stoller photo
Punk bands are generally not what I'd call musically sophisticated. It's not about that. It's about the energy, the angst, the passion. Oh, the Stooges have all that, but they're also quite wonderful musicians, with a strong jazz and experimental sensibility. There were periodic interludes when they stretched out their powerful punk anthems into something more textural and complex, with Williamson physically appearing low-key, but in ripping into his guitar, anything but. Mackay with his wonderful sax playing and smoky jazz club vibe… so classy. One such interlude was in the aftermath of a rollicking dance number, "Shake Appeal," which had 30+ members from the audience up on stage, hilarious fun with a sensuous wind-down.
IGGY and THE STOOGES
8/31/10 -BOSTON SETLIST
Raw Power
Search and Destroy
Gimme Danger
Your Pretty Face Is Going To Hell
Shake Appeal
1970
Night Theme
Beyond the Law
I Got A Right
I Wanna Be Your Dog
I Need Somebody
Penetration
Death Trip
Open Up and Bleed


Encore:

Fun House, No Fun
For the record, there was a good deal of thrashing about and mic stand tossing (once hitting a security guy, but a friendly handshake cleared up any misunderstanding), two stage dives and one that was kind of "a crawl." Unlike days of yore when the scene sometimes got ugly and confrontational, this was a full-on love fest – though with mosh-pit-madness up at the front, not one for the feint of heart.

But it was Iggy's quieter moments that I found most compelling. Stalking around the stage like a deranged panther, bringing it down to something darker and more sinister ("give me danger, little stranger…"). Writhing and contorting his way around massive statements like "Gimme Danger," "I Wanna Be Your Dog" (ohhh… bliss.), and "I Need Somebody," he examined every nook and cranny of the darker side of human existence, desperation and obsession, with every fiber of his body. Performance immersion and audience participation: 110%. It was a very special night.
The Neighborhoods
As it turned out, it was to be an evening of legends. I was unaware that there would be any opening band, let alone that it would be hometown boys
The Neighborhoods
. What a perfect choice of support act, and it's been… well, since the early 90s that I'd last seen them. Wildly pumped up and well-aware of the evening's importance, they placed a searing set, David Minehan resplendent in his vintage t-shirt from
The Rat
. They were very enthusiastically welcomed by a crowd who were delighted albeit surprised to see them there, and there was great band/audience interaction and yelled out requests. Lee Harrington sung a song which he dedicated to his life partner that had the line "I am a broken man; can't you see it in my eyes."
With tremendous energy and giddy excitement to be supporting Iggy and the Stooges ("this guy helped shape my life" – David Minehan), they ripped through a set that included "Half Life", "Reptile Man" and popular audience request "Parasite" – sounding absolutely fantastic.