Airborne Toxic Event at the Somerville Theatre
Photographic Evidence


by Kira Doucette
Somerville Theatre - 9/8/10
Airborne Toxic Event - Sometime Around Midnight
RSL Streaming Photo Album
Airborne Toxic Event
Somerville, MA
- 9/8/10
Having just wrapped up their well-received tour with the Calder Quartet, we wanted to share the photos of The Airborne Toxic Event performing at the
Somerville Theatre
. I think you'll agree with me in applauding the efforts of our latest addition to the blog team: photographer Kira Doucette. She's very talented and we're happy to have her working with us and we're anxious to bring more of her work to light.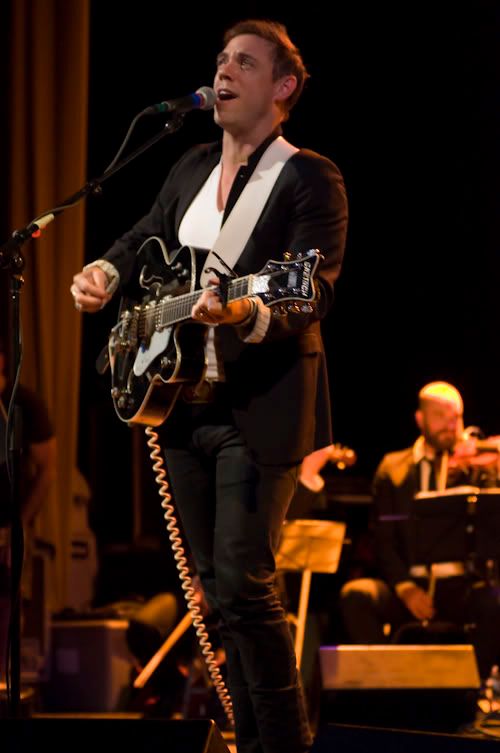 photographs by Kira Doucette
DOCUMENTARY FILM -
There's a new documentary film about
Airborne Toxic Event
available
now
, that you might want to look into. Filmed last December in front of a sold out audience at the Walt Disney Concert Hall,
All I Ever Wanted
, features an eclectic mix of musicians and performers-ranging from a children'schoir, a world-class string quartet, a high school marching band, horn players, visual artists, and Mexican folkórico dancers. Yes, Virginia - it's an ambitious project. The show features selections from the band's eponymous debut album, songs from their new effort (early 2011 release) and some new and never before heard covers: the Ramones' "Do You Remember Rock 'n' Roll Radio?" (with the Belmont High School Marching Band), the Magnet Fields' "The Book of Love," and Q Lazzarus's "Goodbye Horses."