Sixx on Mayhem
the adventures of
Shawn SixX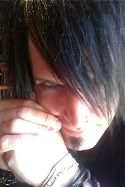 HATEBREED -
Hatebreed is the infamous Hardcore/Metalcore band originating from CT - a state known for it's insane shows and rabid fans. If you have never been to one of this bands shows, GO! As I stood in front of the Jagermeister stage at this years Rockstar Mayhem Festival in Mansfield, MA, I looked out across the crowd of churning fans lathered in sweat and strained faces , I can feel the electricity in the air like an approaching lightning storm. The barrier fence was barely enough to hold back the thousands of people writhing to burst forth in anticipation of Hatebreed's set.
Frank Novinec
Hatebreed - Destroy Everything
photo by Kira Doucette
What people don't always realize with Hatebreed, is that they are a machine. A machine that rarely shuts down from its endless touring, shows and creation. Before Hatebreed's set, I had a chance to set down with guitarist Frank Novinec to discuss what its like to be in the band and on tour right now. Along the way we got down to the band's developing plans.

Nominated for a Grammy, Hatebreed have sold a million-plus career records. The prior year has seen them tour in direct support of Kiss. They are formally credited with 6 studio albums a series of videos and that ongoing world tour. Novinec said the band want to be able to put on the best shows they can and bring in a whole new "Breed" of fans while keeping the ship afloat. As I experience today and from their other shows I have been to, they feed off their fan's energy.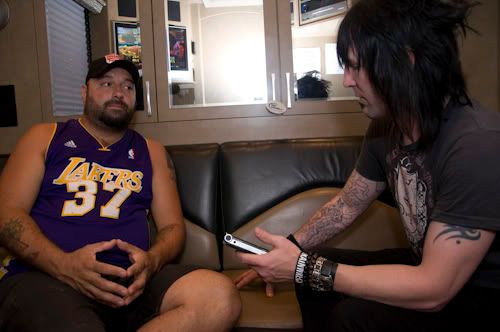 Novinec told me he was grateful for it all and "If all I have to do is get up on stage and play a half hour and do a couple interviews, then its all good!" With the rocket fueled sets and country wide tour schedule, the band has had a blast on the Mayhem Festival tour. "Mayhem has been Heavy Metal Summer Camp", Novinec said. "...when it's done and the signings are done and it is 6 o'clock and the buses don't leave until 2 in the morning...we have a lot of mischief going on over here!"
Novinec let me in on that Hatebreed's plans for future tours are China and Indonesia sometime soon. Their next tour after the Mayhem Festival will be in the UK for the Reading and Leeds festival with 4 or 5 shows around Europe supporting the festival then dates in Canada this September and the South Pacific in October. In November, Hatebreed returns to the EU for he 10 day Persistence Tour. And then there's still the Stillborn Festival somewhere between Christmas and New Years. This is a busy band.
This was definitely a homecoming show for Hatebreed. Novinec recalled memories of hand-selling demos to local fans in Connecticut back in '94. Since then they have toured the world and helped set a new, high standard for the Hardcore / Metalcore genre.
Following their upcoming dates, Hatebreed should be back in the studio by Spring to work on new material, Novinec said. There's also talk of a new DVD project (the band's third) coming in 2011.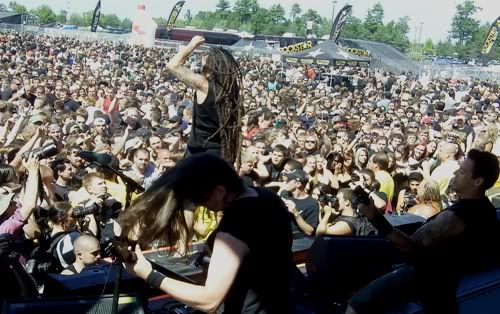 Shawn Sixx had a spot ringside for Shadows Fall
SHADOWS FALL -
As the crowd raised their glorious fists in the air and pushed toward the stage - and Shadows Fall - like an army possessed. I wondered then…What does it take to be a Metal band from Massachusetts? It takes unassuming passion, endless energy and a drive and willingness to do it the hard way!
Shadows Fall - The Light That Blinds
photo by Kira Doucette
As the dreads swirl and snap around his head like a whip, frontman Brian Fair takes years of struggle, pain, and faith - straight to the crowd. Is he expelling all the demons of growing up in New England, never assuming he would go very far? Shadows Fall started in a scene that never thought it had a future. "It wasn't even underground," Fair said, "it was under fucking water!"
You have to pay your dues in this part of the country. I can attest that there is no free ride in life here, no guarantee; no one is going to do it for you. Well in the world of Massachusetts Metal, the same mentality holds true. As I sat down with Fair after a long hot day with my ears still ringing to talk about what it has been like going from the suburbs of western Massachusetts in the 90's to becoming a two time Grammy nominated band selling hundreds of thousands of albums while playing all over the planet with some of the best metal bands out there.
"We were never the cool band, we were never the hip band" says Fair with a steady calm that comes from being truly at-ease with the moment. He recounts the band's beginnings; They did it the hard way, a gradual grass roots build instead of one band getting a huge single and then all these copycat bands coming out. After 15 years, the band had a not-so-small following. Things flowed from there: "The competitive side was never there because we had no agendas of success when we started." A career in Metal was not really an option. As we all know, offers to become big are a thing few and far between for any band but some just stand out, staking their claim anyway they know how. "We never took for granted all the success. When the doors were opened we made sure we kicked them as wide open as we could and pushed it as hard as we could." Fair explained. "In this day and age, in the music industry you kinda have to take a no-prisoner attitude."

As I watched their set, Shadows Fall never gave one of the fans in the crowd a chance to get away. Whether you are a suburban or blue collar city kid hanging around the pretty corporate venue or neighborhood shit-hole rockclub looking towards what metal in Massachusetts hold for you, bands like Shadows Fall are proof that you can make it. ake no prisoners!

Norma Jean
When I hear the name Norma Jean, I think of the former version of a legendary sex icon, slightly innocent and allot of small-town hotness. The name conjures up wet dream memories for decades of men. Well, at this years Rockstar Mayhem Festival in Mansfield, MA, Norma Jean did something so gritty, so brutal and in my face, I still feel dirty. This Norma Jean, is an amazing Metalcore band from Douglasville, Georgia and they have been proving themselves to fans since 1997.

Norma Jean takes the stage as the churning sea of fans are salivating from full-on excitement and look ready to explode. Front man Cory Brandan Putman sauntered onto the stage and releases a vocal aggression that you should thank him for later. The fury is speckled with a guttural twang that along with guitarists Chris Day and Scottie Henry's blues influenced riffs, show a passion that that can only be appreciate fully if experienced live.
Lets just say this might be as close to a religious experience you might get to at a metal show that doesn't involve that creepy guy handing out pamphlets in the parking lot. (You know who I mean.) Ok, don't judge me, I've seen it happen. All this from a band that has been nominated for a Best Recording Package Grammy in 2006 along with commonly being lumped into the Christian Metalcore genre!
Norma Jean - Birth of the Anti Mother
photos by Kira Doucette
Norma Jean are like a slow sip of bourbon.
It's shocking and might burn at first but as you slowly swallow it down you can feel the heat and tastes of complexity in all it's notes. The sludgy bass line handled by Jake Schultz makes an attack on your ears as well as your soul. Norma Jean's skins are caressed and manipulated by drummer Chris Raines. As you feel the shudder of the undulating beat, your knees go week.
Before the their set, I got to sit down for a few with Norma Jean bass player Jake Schultz to talk about what it's all like. Schultz (who isn't native to Georgia) said the band's headquarters have definitely impacted their music. There are undertones of community and rural themes in the music. It's big audiences on tour that have helped take the band where they are today. I was very interested to find out what its been liked on road with Mayhem. Schultz feels the band really feeds off playing these festivals. The opportunity to get their music to so many people at once and the chance to bring the music to a new segment of fans is essential. Norma Jean has played Ozzfest and the Radio Rebellion Tour in 2006 along with the Vans Warped Tour in 2008. Schultz also expressed the band's excitement to go on the road in the UK as direct support for the Architects starting September 30th.
With this world of heartlessness, Norma Jean could just save you. It was a truly great experience, almost like my first time all over again. Now that would be a story for the family, a metal show caused you to be reborn, a metal show saved you!? Check Norma Jean out for yourself.