Lightspeed Champion @ Middle East
Stories about Music
by Nick Parker
Lightspeed Champion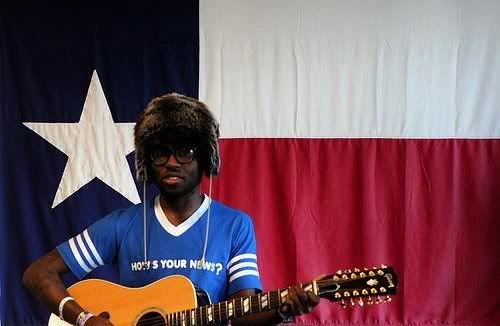 Lightspeed Champion - Dead Head Blues
In July I met a bit of a musical hero of mine, and yet failed to see him perform. I went with a friend to see
Lightspeed Champion
, supporting
We Are Scientists
, at
The Middle East.
Singer Dev Hynes (the man behind Lightspeed) was sat around with his friends from WAS at the merch. table, looking a little stilted and uncomfortable, and typically outside all conventions of indie-stardom.
He spoke a self-deprecatingly of not having played out for a couple of years, and with disbelief at the popularity of the show (there was a line fifty yards long outside as the doors opened). After some slightly uneasy conversation with him, I wished him luck on stage and withdrew into the crowd to wait. It was only when he came on that I was sad to see that he was going to play alone. He carried only an electric guitar and an old laptop, and began to play so quietly that the crowd, most it seemed holding on for WAS, chatted over the subtleties of his song.
Then he turned to the laptop, and the gig took a strange turn for me. He played single "
Marlene
" from this year's
Life is Sweet. Nice to Meet You
on the computer, accompanying the drums, strings, bass, etc. on his guitar, and singing determinately, as if the band was really there, driving him energetically, but with studio-perfect performance skills. It made for a strange mix of sounds, and it made me feel old, wondering why I couldn't see the performance I had gone there for.
It's the 21st century of course, and this kind of semi-performance is not unusual these days (Ting Tings, Sleigh Bells etc. etc.). It's me that needs to adjust, because I can't shake the feeling of wanting to see the interactions that a group of musicians can have together. But Dev was compelling – great guitar work, beautiful vocals, and the songs still some of the best around at the moment. It was clearly a shoe-string tour too – Dev told me it was great to just hang out with some of his best friends form the other bands, having driven up that day from his home in NYC, and presumably without the pressure of his own headline 'event' to pull-off every night.
As I told my friend while we watched this sort of performance, it made me imagine being at an open-mic night, full of the usual eccentric and oddball types (I've been one of them in years past, I confess), and watching with incredulity as a strange figure wanders on-stage with his computer, only to break into song after song of incredible beauty and maturity, that make all the rest seem flat. Once I adjusted to the new terms of 'performance,' it somehow seemed personal in that way, despite the backing track, like we were plucking this talent from obscurity. Perhaps if he got what he deserves – the money to bring ten musicians with him around the country, and do the songs justice, we would loose that feeling, and this gem would be lost in the fanfare.